Choc37.9 – chocolate that doesn't melt in your hands!
Barry Callebaut says the Choc37.9 is a solution for the increased demand for chocolate and compound products in warmer climates…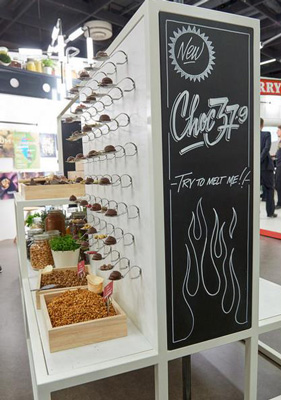 Barry Callebaut has presented one of its breakthrough innovations at this year's ISM: Choc37.9.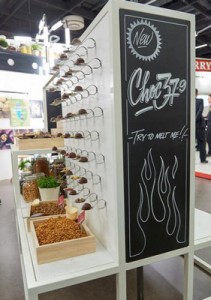 The company says that Choc37.9 is an ideal solution that allows Barry Callebaut's customers to offer end consumers a chocolate snack on the go that won't melt that fast in their purse or hands; Choc37.9 is also an ideal solution for chocolate applications or chocolate offerings in markets in warmer climates.
Barry Callebaut's chocolate and compound recipes with an improved thermo-tolerance permit a melting point of 4 degrees higher than normal chocolate and more than the human body temperature, making it the perfect base for chocolate experiences on the go.
Trend reports of Global Chocolatier Barry Callebaut show that consumers are looking more and more for chocolate experiences on the go. They want to indulge themselves with a treat while walking to their next meeting, relaxing at the beach or commuting. Today's consumers have such a busy life that they are looking for a permissible chocolaty break that lifts their day, comforts them and provides them with an instant energy delivery. One problem: the mess when the chocolate melts in their purse and hands.
At ISM, Choc37.9 will make its début in a novel concept of Barry Callebaut: chocolate nibbles – a range of delightful chocolate bites, with surprising cores like nuts, fruits and sweets. Customers are offered the opportunity to create unique chocolate experiences on the go with different textures and colours that all come in convenient pouches.
Choc37.9 is ideal for warmer climates
Barry Callebaut says the thermo-tolerant Choc37.9 is also a solution for the increased demand for chocolate and compound products in warmer climates. "Our new Choc37.9 offers great potential for tasty chocolate experiences in warmer climates," says Bas Smit, Head of Global and European Marketing, from Barry Callebaut. "Products can be displayed in stores, there is no need any more for cooled transportation in certain areas and the whole logistic process in general is simplified enormously."
"I thought if we want to bring chocolate to countries like China or India, we needed to change something," adds Frederic Depypere, who contributed together with Project Lead Elien Van Steen to the development of this game changing chocolate. After four years of intensive research, Barry Callebaut says it is now ready to sell chocolate that melts in your mouth, not in your hands…