GEA builds world's first earthquake proof milk drying plant for Fonterra
GEA has built a unique whole milk drying plant for Fonterra that is designed to withstand a 1/2500-year earthquake event without damage…
GEA has built a unique whole milk drying plant for Fonterra in New Zealand.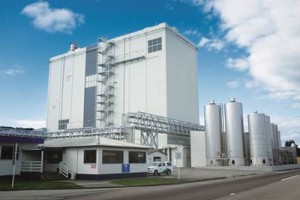 It's unique because of its construction: The plant at Pahiatua is on an earthquake fault line and has been designed to withstand a 1/2500-year event without damage. It is believed to be the first plant of its kind in the world to be built in this way.
The small town of Pahiatua in New Zealand's North Island was last hit by a major earthquake in 1934 when it was devastated by a 7.6 magnitude shock.  However, in all other respects the plant is ideally located for the dairy farms it serves, avoiding the need for tankers to traverse the Manawatu Gorge which can be dangerous in bad weather. 
Building a plant in the middle of New Zealand's earthquake zone requires special precautions.  In an effort to speed the process it was agreed not to design a new facility that would withstand tremors but to build a copy of the company's Darfield 1 Dryer but with base isolation that would allow the building to move should a quake hit.  As well as providing all the processing equipment, GEA was also contracted as a consortium to provide the building work for the project with its partner Ebert Construction.  This is the first commercial plant in New Zealand to be protected in this way.
New Fonterra plant is virtually water self-sufficient
GEA has many reference sites in New Zealand for this type of plant including Darfield 2 that operates the world's largest milk powder dryer.  The company supplied all the processing equipment including: milk reception, storage, wet processing including standardisation and homogenisation, evaporation, drying, powder handling, packing and water recovery.  Most of the equipment was built by GEA locally in New Zealand with some specialist items coming from the company's factories in China.
According to Gary Reynolds, GEA's Project Manager, the plant was straight-forward in its design except for the base isolation construction. "All these plants are difficult because of their sheer size, but this was similar to many plants we have built in New Zealand," he said.
The site does, however, include a reverse osmosis plant capable of processing up to 2,000,000 liters a day of 'cow water' (water recovered from the milk drying process) and purifying it for reuse in the plant making the new plant (P3) virtually self-sufficient in water. "This treated water is returned to the process, keeping disposal costs down and ensuring that Fonterra has no need to increase its water resource consents," said Gary. "The RO plant will also produce boiler feed water of very high quality using less chemicals to protect the steam system from corrosion, increasing the life expectancy of the plant and reducing operating costs."