First milk processed at Fonterra's Edendale site
Fonterra has announced that the first milk has gone through the new Milk Protein Concentrate (MPC) plant at the Company's Edendale site in New Zealand…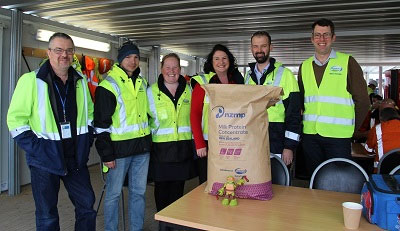 Fonterra has announced that the first milk has gone through the new Milk Protein Concentrate (MPC) plant at the Company's Edendale site in New Zealand.
The MPC plant is the first of three new plants to be up and running – the Reverse Osmosis (RO) and Anhydrous Milk Fat (AMF) plants will come on line in the next few weeks. 
During the past year, almost 1,000 people have worked more than 200,000 hours to build the new plants, which will expand the site's product portfolio and increase the processing capacity to 16.4 million litres per day. 
New site capacity means Fonterra can be more responsive to market demand
Fonterra Southern Operations Manager Richard Gray says the new capacity gives the site more choice about the products it makes so it can be more responsive to market demand. "This means we can get the most out of every drop of milk, getting the highest returns for our farmers." 
Part of the expansion has included the integration of the new three plants with the existing four dryers and two AMF plants resulting in improved efficiencies throughout the site. 
New heat recovery technology provides the site with the equivalent of 12 tonne of steam per hour, eliminating the need for a new boiler and leading to reduced operating costs and significant environmental benefits. 
"The new plants will allow us to run our existing assets more efficiently and drive every cent out of the cost of processing," said Gray.