KitKat taking social media by storm at 80
Celebrating its 80th birthday this year, KitKat is one of the world's top ten fast-moving consumer goods brands in social media…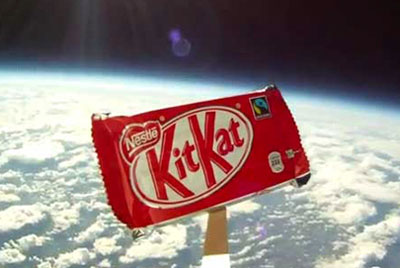 Launched in 1935, KitKat, with its trademark red wrapper and chocolate fingers, is celebrating its 80th birthday.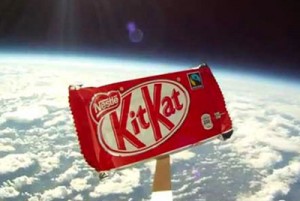 Nestlé has discussed how a brand celebrating its eighth decade managed to take social media by storm. The Company explained that KitKat's strong brand equity and its knack for leveraging 'moment marketing' has enabled it to become one of the world's top ten fast-moving consumer goods brands.
Ever since 1938, KitKat has been associated with having a break. Its classic tagline 'Have a Break, Have a KitKat" has been synonymous with the brand for almost 60 years. Recognising the strength of the tagline, the KitKat team began to use 'moment marketing' to engage with consumers online.
It started in 2012 when Red Bull signed up Austrian daredevil Felix Baumgartner for a record breaking skydive from the stratosphere. It would make him the first person to break the speed of sound in a freefall. But Felix had to postpone the jump several times due to bad weather.
As suspense grew online, KitKat decided to offer Felix some moral support with a humorous Facebook post: "It could be a long wait Felix…have a break, have a KitKat."
"The post was an instant viral success and we didn't want it to stop there" says Nestlé's Global Head of KitKat Stewart Dryburgh.
The team began brainstorming for other fun breaks for Felix and the Red Bull team and came up with the idea to send the chocolate bar in to space. Less than 24 hours after the idea was hatched KitKat made its ascent strapped to a weather balloon and a Go-Pro camera. The footage was uploaded onto YouTube and quickly spread across Facebook and Twitter with the hashtag #BreakFromGravity, receiving more than 6.5 million views on Facebook and 10 million impressions on Twitter. Red Bull acknowledged the viral stunt by tweeting "KitKat, thanks for the support!"
"This was the first time two brands were interacting online and we started to think – what other brands would we like to talk to? Who would KitKat like to hang out with?" says Stewart.
Google engineers huge KitKat fans
The team decided to use 'moment marketing' and interacting with other brands online as a new way of bringing the KitKat brand personality to life. A collaboration with Orea followed before the KitKat team took on its biggest collaboration to date – with Google.
 "We were looking for the next brand to 'play' with when Google contacted us with their proposal" says Stewart. That proposal was to name version 4.4 of Google's mobile operating system Android KitKat.
"We knew Google was looking for a sweet-themed name under the letter 'K' for their next Android system, but because all the previous ones were generic – such as cupcake and doughnut – no one expected it to be a brand."
The collaboration has proved to be KitKat's most successful digital and creative branding campaign to date, but what the team prizes the most is why KitKat was chosen in the first place.
"One reason why Google invited us to share our name with their Android system – making us the first brand in the world to do so – was simply because their engineers were huge KitKat fans. It was pure love for the brand" says Stewart. "No money ever exchanged hands. If that's not a mark of how loved and relevant KitKat continues to be, I don't know what is."
Judging by the success it has had to date, it doesn't look like KitKat will be "having a break" from social media anytime soon.