Vanilla Etc. pick up three 'Great Taste 2015' awards
Flavouring specialists Vanilla Etc. has picked up three awards in the Guild of Fine Goods 'Great Taste 2015' awards…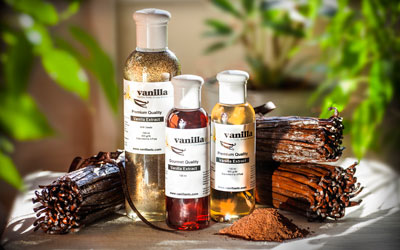 Steeton-based flavouring specialists Vanilla Etc. has picked up three awards in the world's most coveted blind-tasted food awards.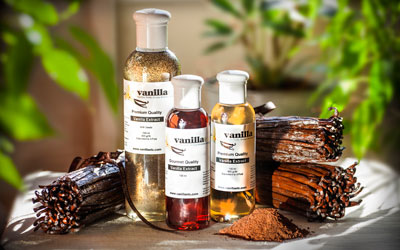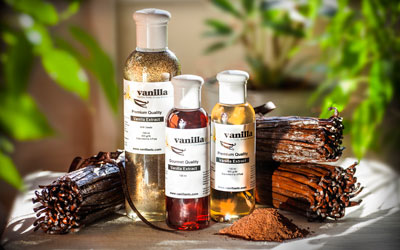 The Guild of Fine Goods 'Great Taste 2015' has just announced the stars of 2015 with Graham Bruce's small independent business now able to proudly carry the little gold and black Great Taste logo on his vanilla pods and Premium Extracts.
Judged by over 400 of the most demanding palates including food critics, chefs, cooks, restaurateurs, producers and a host of food writers and journalists, Great Taste is widely acknowledged as the most respected food accreditation scheme for artisan and speciality food producers. When a product wears a Great Taste label it carries a badge of honour but more importantly, the Great Taste logo is a signpost to a wonderful tasting product – hundreds of judges have worked tirelessly to discover the very best, through hours and hours of blind-tasting a total of 10,000 different foods and drinks.
Recognised as a stamp of excellence among consumers and retailers alike, Great Taste values taste above all else, with branding and packaging ignored. All products are removed from their wrapper, jar or bottle before being tasted. The judges then savour, confer and re-taste to decide which products are worthy of a 1-, 2- or 3-star award.
Among the panel of judges this year were Masterchef judge and restaurant critic Charles Campion, TV presenter and cook, Aggie Mackenzie, Great British Bake Off winner, Frances Quinn, Masterchef the Professionals finalist, Adam Handling, food buyers from Harrods, Selfridges, Waitrose and Marks & Spencer, and chefs including James Golding, Chef Director of The Pig hotel group.
The judges commented on the Vanilla Etc. Madagascan Gourmet Villa Pods as 'plump and of great quality', while the Premium Vanilla Extract was commended for its 'purity and clarity'.
Supplying pods, extracts and powder online to both amateur chefs and professionals as well as food manufacturers, Graham Bruce is delighted with the awards, which come just as the business is expanding into new premises in a unit at Redcar Wood Farm in Keighley, saying:
"This was our first time entering these prestigious awards and it's great to see that our commitment to sourcing the highest quality Grade A vanilla products direct from certified farms in Madagascar has been recognised in this way."
With a poor vanilla harvest, 50% down this year, supply problems are set to continue to challenge the business. Meanwhile, Graham is also busy expanding the company's offering of other Natural food flavourings to meet chefs' demand for top tastes to achieve culinary perfection, including ginger, almond, caramel , lemon, orange, lime, apricot & almond and vanilla fudge.