Arla decides not to bid for Egyptian dairy
After a thorough investigation into Arab Dairy Product Company, Arla has decided not to place a final offer…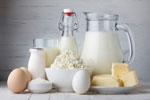 After a thorough investigation into Arab Dairy Product Company, Arla has decided not to place a final offer. Alternative options to enter the Egyptian market are now being explored. 
Since Arla made a non-binding bid for all shares in the listed Egyptian dairy company, Arla Foods and its team of advisors have conducted a thorough due diligence exercise concerning Arab Dairy Product Company.
"Our conclusion, based on the due diligence, is that we shall not place a final tender offer for Arab Dairy. Egypt is, however, still an interesting market for us and we are working on alternative options to enter the market soon," says Finn S. Hansen, Executive Vice President for Arla's international business group.