Tef – Cultivating a healthy gluten free lifestyle
Originally domesticated in Ethiopia, tef is a wholegrain cereal that has become a lifestyle food alternative in the West. Its appeal is due to its gluten free qualities and its light and soft texture which can easily be combined with other cuisines. Tef products including tef flour, bread, cookies and the flattened bread injera can be found in organic/health food stores in Europe and the USA or can be purchased online. It is estimated that there are more than 90 restaurants in Europe providing Ethiopian cuisine, at the heart of which is injera.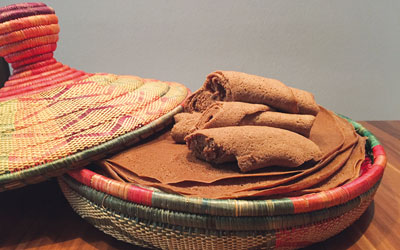 Tef general use
In Ethiopia, tef is currently the number one crop in terms of acreage, where it is annually cultivated by over six million farmers on about three million hectares of land. Farmers prefer tef to other cereals since it fetches higher market prices and is resilient to climatic and soil related stresses. Tef provides grain for human consumption both as a food and as an ingredient for home-brewed local beer and as fodder for livestock. Tef straw is also used as a construction material mixed with clay to plaster traditional wooden-walled houses and inner fittings. Although the cultivation of tef for human consumption was restricted for thousands of years to the Horn of Africa, the interest to grow and consume tef has been increasing in the West in the last decade due to the health-related benefits it offers.
Nutritional facts
The Ethiopian cereal tef can be used to make recipes that vary in type, form, and texture. This variety arises as a result of socio-economic differences in the society and sometimes as a result of the type of tef used. However, a common understanding among the different cultures is that tef products are a source of energy. Paradoxically there is also a belief mostly in cities that tef is nutritionally poor and serves no other purpose than to keep a stomach full. However, tef seeds contain a comparable and even better nutrient composition than rice and wheat, containing an excellent set of amino acids while being rich in calcium and iron…
Webinar: eBook: Thermo Fisher Scientific Food Integrity Collection 2017
Over the course of the year Thermo Fisher Scientific have provided expert comment on a whole swathe of issues including food fraud, origin testing and labelling regulations. This collection also provides access to Thermo Fisher's Food Authenticity webinar series for 2017, where experts delve into olive oil characterisation, gelatin speciation, honey and chromatography, and more.
The rest of this article is restricted to logged-in members. Login or subscribe free to read it.