Resource efficiency in the food chain
The increasing demand for healthy and nutritious food requires an efficient use of the natural resources allocated to food production and processing. The EU funded project RESFOOD develops technologies and tools to overcome the barriers to a resource efficient food chain, leading to a reduction of water and energy use of between 25-80% and the recovery of valuable materials. Besides research and demonstrations of water treatment, disinfection and reuse, much attention is being paid to improving food safety through new fast monitoring and detection methodologies.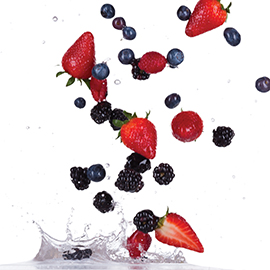 Water and nutrients are both valuable resources which are to be recovered as much as possible, while salts (Na+ ), growth inhibitors, microorganisms and crop protection agents should be removed or degraded to prevent damage to crops and/or emissions. For soilbased crops, the aim is to enhance water use efficiency with the use of fertigation for cultivation while maintaining required yield and quality of fruit. For soilless cultivation, the focus is on water and nutrient recovery and reuse by investigating and developing new water treatment concepts.
Optimal water use for soil-based food production
For field testing, soil humidity sensors are placed at different depths and the water content circulation patterns are monitored. Field trials have been conducted in the experimental plot of the ADESVA technological centre located in Lepe, Huelva, Spain. The crops studied were strawberry and blackberry, representing one of the most significant crops in Huelva. Using three different irrigation tapes with different flows (2.5, 3.8 and 5l/h) while keeping the amount of fertiliser constant, the influence on the production and quality of the fruit was studied. No significant statistical differences were found between the three irrigation tapes in any of the analysed quality parameters during the season of blackberry cultivation, except in the vigour of the plant, which was greater in the 5l/h tape. This means that water and nutrient use by the plant can be reduced, representing a saving of 34% and 50% respectively. Moreover, continuous sampling of the drainage volume of the irrigation via lysimeters gave average values of 28%, 60% and 68% drainage for the 2.5, 3.8 and 5l/h lineal metre tapes, respectively. These results indicate that a minimum water dosing of 2.5l/h can be applied with no significant impact to the quality of the crops. This will reduce water use and nutrient losses from leaching by up to 80%, considerably minimising the environmental impact of cultivation with regard to water/nutrient use and prevention of soil and ground/ surface water contamination. 
The rest of this article is restricted to logged-in members. Login or subscribe free to read it.