Why is America still hungry?
One in eight people in the US do not have access to nutritious food – but why, in 2022, does one of the richest countries still face food insecurity and who is to blame?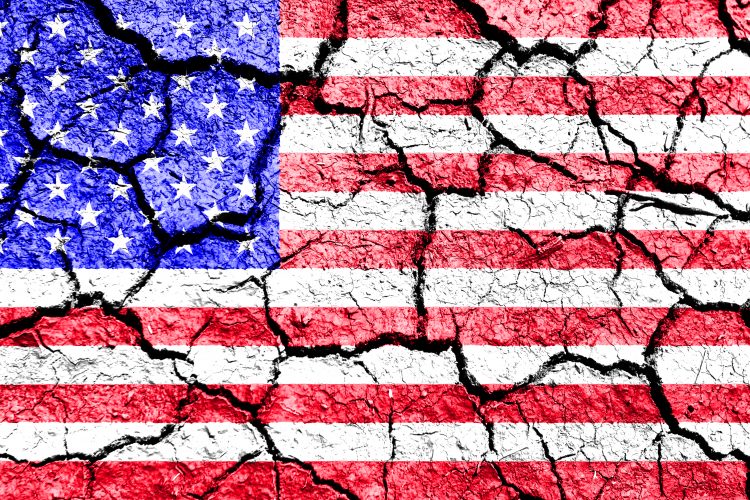 As long as there have been humans inhabiting the world, there has been hunger; although the degree at which it has been prevalent has certainly fluctuated, the Great Depression during the 1930s is just one example where it was particularly widespread in the States. Even today, in modern times, food security is very much a daily concern.
In the US, one in eight people are facing limited access to nutritious food, according to US hunger relief organisation, Feeding America. In this article, we look at why that might be and where the blame could lie. 
What is food insecurity and who does it affect?
The US Department of Agriculture (USDA) defines food insecurity as "a lack of consistent access to enough food for an active, healthy life". Within its definition, the department describes several levels of security, ranging from high to marginal, low and very low.
The number of people in the US that are facing hunger is significant. In fact, according to the USDA, as many as 38 million people – that includes 12 million children – faced hunger in 2020. That figure rose from 35 million in the previous year and was arguably driven by the onset of the pandemic.
As with all societal issues, some are impacted worse than others. "Rural areas and communities of colour are disproportionately affected by hunger. Even before COVID-19, people of colour experienced food insecurity and its underlying drivers disproportionately compared to white people," Feeding America told New Food.
The charity says the black community is 3.2 times more likely to live in food insecure households, Native Americans around three times, and Latino communities about 2.5 times, in comparison to white households. The black community also saw a 25 percent increase in food insecurity, while Latino and white communities saw a 22 percent increase and six percent decrease respectively in 2020.
In terms of rural versus urban divide, Feeding America says 91 percent of counties with the highest rates of food insecurity are rural, despite rural counties representing only 63 percent of all US counties.
Moreover, according to USDA data collected between 2018-2020, Mississippi has the highest prevalence of food insecurity, coming in at 15.3 percent, while the state of New Hampshire ranks the lowest (5.7 percent).
Everybody is feeling the pinch
Food prices are on the up. There are a variety of factors behind this, but, ultimately, the impact it has on those most vulnerable to food insecurity is much bigger. As such, Feeding America and its network of food banks is attempting to ease the burden on the food insecure – a task which it and its partners have been tackling since the start of the pandemic.
"Household budgets are still very tight – anything that increases costs can have a negative effect on their [food insecure communities'] food budget, leading individuals and families to turn to food banks to make ends meet," Feeding America stated.
Those same factors that have made food more expensive for consumers have also had indirect consequences for charities too.
"Supply chain disruptions, lower inventories at the retail and manufacturer level, costs for fuel, transportation and labour shortages, along with other disruptions, are affecting food banks throughout the country," explained Feeding America.
"Freight costs to move donated food has increased over 20 percent and the Feeding America National Office has subsidised these costs in excess of $34 million since April 2020. To make up for donation shortages, Feeding America food banks are purchasing more food – 58 percent more in the 2021 financial year, to keep up with demand that remains elevated compared to pre-pandemic levels.
"Despite these challenges, Feeding America's network managed to distribute a record 6.6 billion meals last fiscal year (July 2020 to June 2021) and more than 11 billion meals since April 2020."
Who is responsible for solving the problem?
The debate on who is responsible for ensuring all citizens have access to a secure food supply is well-debated across the world, let alone in the US.
The relationship between US citizens and their government has always been strained in the States, and the eternal scepticism of too much interference from Federal Government has crept into the food security debate too.
It may come as somewhat of a surprise to some, that American citizens do not legally have a right to food. The US Mission to International Organizations in Geneva clarified this in 2017: "The United States supports the right of everyone to an adequate standard of living, including food, as recognized in the Universal Declaration of Human Rights. Domestically, the United States pursues policies that promote access to food, and it is our objective to achieve a world where everyone has adequate access to food, but we do not treat the right to food as an enforceable obligation. The United States does not recognize any change in the current state of conventional or customary international law regarding rights related to food. The United States is not a party to the International Covenant on Economic, Social and Cultural Rights."
Of course, it is in every government's interest (at least those that wish to stand a chance at re-election) to ensure its voters have food on the table, but the fact that this is not a legal obligation in the US is perhaps indicative of the historical approach of who should be responsible for food insecurity.
So, on whose shoulders should the burden fall then? Should state and federal governments do more to ensure their citizens are fed, or should the food and beverage industry be doing more to ensure everyone has access to nutritious food? Well, unsurprisingly perhaps, the answer is probably all of the above.
"Food insecurity is an intersectional issue, which means the onus falls on each of us to help improve food security in our communities," said Feeding America. "Hunger impacts health, education, the workforce, and so much more. As such, Feeding America believes that everyone and every organisation has a role to play in addressing hunger. Without the engagement of federal and state governments, the generosity of the private sector, including individuals, corporations, foundations and communities, and the innovation and agility of the charitable food sector, more people would be facing hardship, especially over the past two years.
"Strategic retail, producer and manufacturing donors in particular play a major role in how Feeding America operates. We are regularly engaging producers, manufacturers and retailers to align their social and environmental strategies with donating to the Feeding America network.
"Financial donations also help food banks source the necessary food, and Congress can help with additional funding for food purchases via the Emergency Food Assistance Program (TEFAP)."
Conclusion
For a country as developed as the United States, which it is important to remember has the highest GDP in the world, it may come as a surprise that food insecurity is as big a problem as it is. Inequality when it comes to food is rife in the US and, as Feeding America has pointed out, it is down to all stakeholders within the food industry to rectify this and ensure that all Americans have access to nutritious food. That means food and beverage manufacturers and indeed federal and local government have to play their part in easing the food insecurity burden, if the US is going to address its worryingly large food security gap.