Putting nutrition at the heart of plant-based protein development
Hannah Baugh, Nutrition Manager at Nestle UK&I, talks about the challenges faced by the plant-based protein industry: creating proteins that align government nutritional targets with consumer tastes.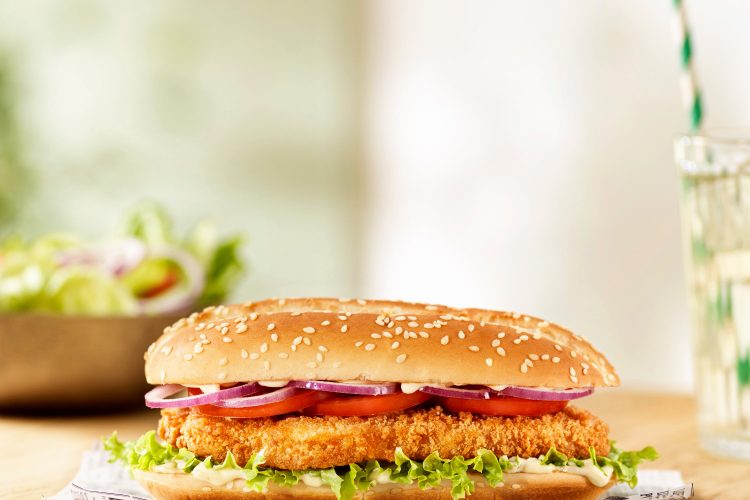 Veganuary 2022 was louder and more well-attended than ever – beating last year's record of half a million participants worldwide. The initiative acts as a fantastic awareness-raising exercise, not just for vegans, but also for people trying to reduce their meat intake and eat more healthily1 and sustainably.2 This year – as last – it set social networks abuzz, generating thousands of column inches worldwide.
Asking important questions
Despite the usual waves of positivity around plant-based dining and its potential benefits for animal welfare, health and sustainability, there was more introspection this year about what lies within the array of available plant-based proteins served by progressive food operators. Provocative articles in mainstream media questioned the health and sustainability benefits of plant-based proteins3 and participants took to social networks to investigate the overarching ethos of vegan diets. The result was an increasing number of flexitarians, vegetarians and vegans questioning whether their 'healthy sustainable plant-based proteins' were any better than meat. Or worse yet, packed with additives and unsustainable ingredients.4
These conversations around ultra-processed proteins have been ongoing in the plant-based foods industry for a long time. And as plant-based becomes less of a trend and more of a lifestyle, they are trickling down into the public consciousness – and rightly so.
At Nestlé, we're fortunate to have long-standing experience in this market. We've been making plant-based products for 30 years, and we have a large worldwide R&D network dedicated to new product development. When the team developed the GARDEN GOURMET® range, nutrition was a key consideration so that people who wanted to swap or reduce their meat intake need not worry. This meant that, rather than retrofitting meat alternatives to meet requirements, we decided on the nutritional targets of GARDEN GOURMET® products right at the start of the product development process.
The UK Government has set 2024 salt reduction targets, which are currently voluntary. Despite this, as a global brand, we're keen to lead by example, so we're committed to achieving these targets and to continue working towards reduction levels. It is part of our overarching ethos: to support the food industry by offering nutritious5 plant-based products that don't compromise on taste or texture, while also helping operators achieve their nutrition targets.
It was important to start with a product that was high in protein and a source of fibre and had to take account of consumers' nutritional needs as well as government requirements for salt, fat and sugar levels.
Satisfying demands and regulations
Nestlé sells plant-based proteins worldwide, but consumer tastes vary across territories and the UK market is particularly demanding. It's a delicate balancing act, matching consumer preferences for stronger flavours with government requirements. In fact, creating a plant-based burger that not only meets UK 2024 salt targets, but also tastes delicious and delivers on texture is no easy task!
Packing products with artificial flavours to offset low salt levels is an easy route but is not one we choose to take. We benchmark competitors for flavour and product development involves extensive taste-testing and iteration to make sure that GARDEN GOURMET® products appeal to the British palette. This is while not compromising on texture and versatility.
Industry commentators complain about the plant-based industry's ultra processing of isolated soya and pea proteins in industrial 'energy-guzzling' factories. In fact, GARDEN GOURMET is on track to be carbon neutral by the end of 2022.
Also, by laying out which nutrients we want to include in our plant-based proteins, every ingredient has a purpose. We have stringent goals regarding protein, requiring all of our GARDEN GOURMET products to be high in protein and to possess the expected texture of the meat they are emulating.
To prevent mushiness and give products a firm meaty bite, we add plant-based starches and fibres. We create the right flavour profile using natural flavourings including malt extract from barley.
Another key focus for our research teams is versatility. Food operators want ingredients that not only taste like meat but can also be cooked in the same, or at least similar, ways. Our menu development chefs spend hours cooking GARDEN GOURMET products in a diverse range of ways to ensure they can be adapted to different kitchen setups. For food operators that want to cater for plant-based diners, it isn't simply about choosing the right proteins, it's also about putting the right processes in place.
The plant-based industry is maturing, and it's good to see consumers questioning what's inside their proteins. Hopefully this will encourage more to try plant-based – vegans, flexitarians, and ideally the curious carnivore. After all, it's vital that we create and provide nutritious6 delicious and more sustainable7 alternatives for customers, in the hope that food operators will increase the plant-based options on their menus and contribute to making a positive impact as an industry for generations to come.
References
The GARDEN GOURMET® range is high in protein, provides a source of fibre, non-HFSS, mostly meets UK salt targets and has green or amber front of pack labelling. Protein contributes to the maintenance of muscle mass, as part of a healthy diet and lifestyle.
A diet rich in plant-based foods and with fewer animal source foods is widely recognised to confer environmental benefits – Source: Summary Report of the EAT Lancet Commission, Healthy Diets from Sustainable Food Systems
https://www.theguardian.com/books/2022/jan/31/the-big-idea-is-going-vegan-enough-to-make-you-and-the-planet-healthier
Social media insight based on 22,000 British consumers and local businesses' comments and publications about Veganuary during the month of January
The GARDEN GOURMET® range is high in protein, provides a source of fibre, non-HFSS, mostly meets UK salt targets and has green or amber front of pack labelling. Protein contributes to the maintenance of muscle mass, as part of a healthy diet and lifestyle.
A diet rich in plant-based foods and with fewer animal source foods is widely recognised to confer environmental benefits – Source: Summary Report of the EAT Lancet Commission, Healthy Diets from Sustainable Food Systems
Related organisations
Related regions