Supporting more sustainable consumer diets: what works?
Rising interest in sustainable diets has led many food businesses to consider how best to play their part in driving a dietary transition. Here, Joanna Trewern at WWF-UK relays the results of an initiative that encouraged consumers to make lasting changes to their eating habits.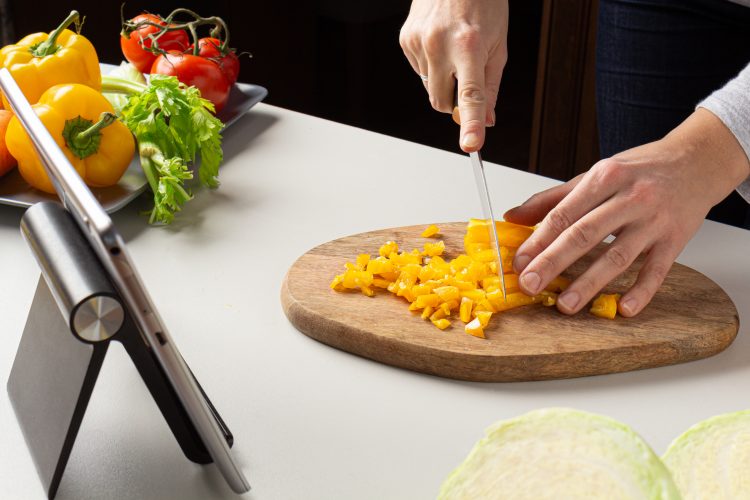 How do you create lasting change among consumer eating habits?
Eating less meat and wasting less food are core tenets of sustainable diets. But how can consumers be encouraged to adopt these behaviours? It's not a simple question. Much of the research on how to change behaviour has been conducted in simulated laboratory settings and findings can't easily be translated to real-life food environments such as supermarkets and canteens.
The average person makes over 200 food decisions a day. The majority of these are unconscious and influenced by environmental cues such as advertising and supermarket and menu layouts. But there are ways in which the choice architecture – the immediate setting and framing of options – can be adapted in food environments such as supermarkets and canteens to promote certain choices that benefit the consumer. This is often referred to as 'nudging', a strategy that involves influencing consumer purchasing and eating decisions without restricting choice or freewill.
However, to influence behaviour over the long term requires more than just a nudge. To deal with the scale and urgency of the public health, nutrition, climate and natural world emergencies we're facing, we need to change how people think and feel about food, as well as what they buy.
Sparking Change
One way to achieve this is through equipping consumers with the knowledge, skills, support and opportunities they need to adopt more sustainable diets. A marketing campaign underpinned by behaviour change theory did just that with nearly 100 households.
Sparking Change, a collaboration between UK retailer Marks & Spencer and environmental organisation Hubbub, aimed to support participating households in their aim to eat less meat and more plant proteins, vegetables and wholegrains, waste less food and cook more from scratch. The campaign was based on the COM-B theory of behaviour change, which asserts that individuals need three things to adopt a new behaviour: skills and knowledge, an enabling environment, and personal motivation. Being grounded in behaviour change theory meant that Sparking Change was a tailored and flexible campaign designed to directly address participating households' barriers to change.
Through appealing, delicious plant-based recipes, live cook-alongs, cooking skills and meal planning training, short educational talks on nutrition, sustainable behaviours were made fun and achievable. Participating households were provided with a hamper of products that they would use for the cook-alongs, removing the 'risk element' and encouraging them to try new things they wouldn't usually buy when shopping. A private Facebook group gave households the opportunity to share their experiences, challenges and of course photos of their food. But more importantly, building this community of like-minded people who shared the same goal enabled group support, so that households could see they were 'in it together'.
Healthy competition was also encouraged. During the first two weeks of the campaign, which were focused on plant-based eating, participants could choose between two goals: reducing their meat consumption by half or going fully plant-based for a week. The majority chose the 50 percent reduction, showing the importance of setting achievable goals to enable lasting behaviour change.
Reducing meat consumption
Given current meat consumption in the UK is almost double the world average, at around 100 grams per person per day, many people cutting their consumption in half would be far more impactful than a small number of people adopting plant-based diets, especially if the behaviour changes toward meat-reduced diets become an ingrained habit.
Excitingly, the approach taken in Sparking Change led to reduced meat consumption and food waste, and increased fruit and veg consumption and scratch cooking. Three months after the end of the campaign, households had reduced their meat consumption and food waste even further, demonstrating how important it is to motivate and enable people to change their behaviours.
Before participating in Sparking Change, households reported eating meat five to six times a week. This had dropped to three to four times a week by the end of the campaign, and one to two times a week when we spoke to them again three months on. It was a positive picture for fruit, veg and wholegrain consumption too: 68 percent of households said they were eating their five-a-day three months after the campaign, compared to 40 percent before participating. And for food waste, almost half the participating households said they never wasted any food by the end of the campaign, compared to just nine percent before.
Achieving real, long-term change
As well as these changes in behaviour, there were some interesting changes in knowledge and attitudes. One of the knowledge gaps identified prior to the start of the campaign was that households didn't know how to cook with or use plant-based protein. Making this a focus, Sparking Change equipped them with knowledge, and attitudes improved as a result. At the end of the campaign, 68 percent of households reported knowing how to cook with plant-based proteins (compared to three percent before) and 43 percent said they intended to buy plant-based meat alternatives (compared to 18 percent before).
Giving customers agency in their decisions and working with them to design solutions can improve the customer experience and lead to increased brand loyalty. Two-way communication helps customers see and understand what the business is doing to help, framing it as a support network rather than just a brand. Brand opinion and awareness improved among the participating households, as they recognised and applauded the efforts of M&S in supporting them to eat and live more healthily and sustainably.
This campaign shows that there's more that companies can do to encourage change in consumer behaviour than nudging. It gives a practical and scalable example of how to actively engage and support consumers to change, through improving their knowledge, awareness and capacity to ultimately drive behaviour change that lasts.
The research this article is based on can be found here.
About the author
Joanna Trewern is a PhD researcher at Surrey University and Sustainable Diets & Behaviour Change Specialist at WWF-UK. Her research explores how food retailers can support customers to adopt healthier, more sustainable diets with a focus on meat reduction. Her focus is on evaluating the impact of retailer-led behaviour change interventions.
Related organisations
Related regions