Food safety comes to the fore in our latest issue of New Food
Posted: 9 March 2015 | Simon Lott, Commissioning Editor, New Food | No comments yet
There is a safety theme running through our first issue of 2015, including our Food Safety Supplement and our Processing & Sensor Technology Supplement, which focuses on quality control. Our Food Grade Lubricants Supplement also features an article from NSF looking at the safe use of non-food compounds in processing and there are previews of two key safety-related events – the Food Safety Summit and the European Symposium on Food Safety…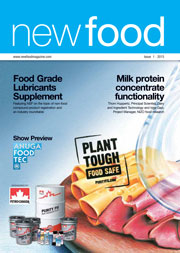 This February the issue of food safety once again hit the headlines in two very different ways. First, allergen sufferers were put on high alert as batches of cumin used in a variety of products in the UK and US were found to have contained traces of peanuts. The story expanded a few days later as undeclared almond traces were subsequently found in products from a UK-based supplier. Currently, it is uncertain whether the cases are linked, or whether there was an intentional or accidental cause, but it highlights that manufacturers and authorities need to remain vigilant despite ever more stringent regulation and testing.
The second story is potentially a more positive one, with the USDA giving its approval to Okanagan Specialty Fruits' (OKS) genetically modified 'Arctic apple'. The company has removed DNA encoding the enzyme polyphenol oxidase, which causes the apple to brown when exposed to oxygen. These are the first GM apples to gain such approval in the US and have inevitably caused a degree of controversy, prompting an OKS statement describing them as 'likely the most tested apples on the planet'.
In both cases there will certainly be lessons to learn about the way food is developed, processed and quality checked. And while the technology changes, the need for vigilance and process control remains the same. To that end there is a safety theme running through our first issue of 2015, including our Food Safety Supplement on page 69 and our Processing & Sensor Technology Supplement (page 49), which focuses on quality control. Our Food Grade Lubricants Supplement (page 23) also features an article from NSF looking at the safe use of non-food compounds in processing and there are previews of two key safety-related events – the Food Safety Summit (page 10) and the European Symposium on Food Safety (page 11).
Of course, we will also be providing extensive coverage of one of the food processing industry's largest events, Anuga FoodTec 2015, starting on page 39. With almost 1,500 exhibitors anticipated, this year's edition of the triannual trade fair is expected to be the largest ever, and we hope to see you there.
As always, if you have any feedback or would like to contribute an end user article to the magazine or a blog to the website, please contact me directly via the email address below.And remember to join our groups on LinkedIn and Twitter – details are opposite.