Wine science: Determining the chemical effects of wildfires
Wildfires can be catastrophic for any crop, but the damage done to grapes might not reveal itself until it's too late. Richard Jack and Dr Rob O'Brien explain how labs are helping vineyards ward off the effects of wildfires.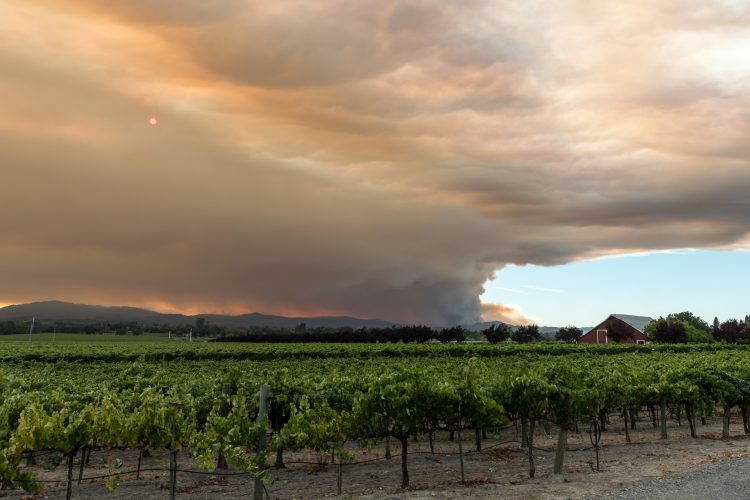 Wildfires are a constant danger for the US' West Coast vineyards
From the use of technologies such as mechanical harvesting and optical sorting, to the involved, intricate craft of determining the final blend of a wine, modern winemaking is unquestionably a marriage of art and science. And these days, winemakers are partnering with scientists more than ever. While vintners have long sent grapes off to the lab to help determine the ripeness of the berry and anticipate the flavour makeup of a new vintage, growers in some regions are increasingly relying on lab partners to identify when the fruits have been affected by nearby wildfire smoke.
Even though grapes may appear perfectly normal to the eye, "smoke-taint" presents a significant risk to their chemical composition—affecting whether a crop will be viable or unusable for wine- or even juice-making.
Most people are aware of the more extreme weather events trigged by climate change—from wetter and more powerful hurricanes to scorching temperatures and a growing number of wildfires. California has had its share of fires and megafires in recent years, but other wine producing regions in Oregon, Washington state and even British Columbia have recently broken records for fires and searing temperatures.
Wildfires have myriad effects, all of which are devastating—the loss of life and homes goes without saying, but farther-reaching effects include the destruction of crops—including grapes—which can ruin a wine- or juice-maker's income for the season.
The danger and severity of fires in western North American regions is highest from June to August, which coincides with the time in which grapes are developing. Delicate growing grapes exposed to smoke can develop "smoke taint," an unpleasant smoky aroma, that can carry through in the form of ashy, smoky flavours in the wine, and even affect the mouthfeel of the product itself. Frustratingly, plants exposed to wildfire smoke may appear unharmed, but the chemical changes that occur in the grape—specifically in the skin— can impact the flavour and the fermentation process, and ultimately mar the entire yield.
While winemakers often deliberately char the inside of oak wine barrels to give wine smokey notes, smoke from wildfires is unanticipated, unpredictable, and can be ruinous for both taste and income. The sale of a batch of smoke-tainted wine can even harm a grower's reputation over the long term, making it harder to bounce back economically in the following years.
Smoke-taint represents a unique food quality issue and analytical challenge for those who study the phenomenon. Plant pathologists aim to map out how plant metabolism is affected from compounds in smoke, while food chemists try to understand how tastes and aromas change and determine whether there are any reliable ways to reverse it. Red wines appear to be considerably more affected by smoke-taint, since the skin is left on during fermentation.
A growing chorus of winemakers are turning to laboratory partners to identify whether their grapes have been affected by smoke; this is where the science comes in. The standard battery of tests that outline for winemakers which flavours to expect in the bottle are designed to detect levels and varieties of sugar, sulphites, and pesticides. These standard tests, long-deployed by winemakers, will not provide necessary information about whether harvests exposed to wildfire smoke are likely to produce tainted vintages. In these circumstances, laboratories will typically employ tests to identify certain smoke-taint marker compounds. Such tests are a critical component of mitigating risk and avoiding wasted time and money producing unsellable wines.
The actual chemistry is complex, but it largely comes down to the volatile phenolic compounds that are formed when trees burn. A grape that's exposed to these compounds will react by coupling sugar molecules to them; these bound versions of the phenolic compounds may not be detectible by humans initially, but during fermentation, they can be unbound and affect the aroma and flavour of the wine.
A good smoke-taint analysis will include a combination of free and sugar-bound forms (using gas chromatography, we typically look at guaiacol, 4-ethylphenol, 4-ethylguaiacol,4-methylguaiacol, syringol, and cresols). The most important takeaway for winemakers is that it's critical to use an extensively-validated analysis that captures the entirety of the sugar-bound forms—this provides the best available estimate of the total volatile phenol load in smoke-exposed grapes, juice, and wine.
Laboratories have seen year-over-year increases in requests for these analyses during the summer seasons. Winemakers who wish to best position themselves to peer into the future and ward off any smoke-tainted vintages, should also seek an off-season baseline analysis of their soils and grape vines. In this ideal scenario, then, winemakers and laboratory partners can compare vintages and abort winemaking processes if necessitated, long before bottling commences.
Smoke-taint analyses can get to a sensitivity of parts per billion (ppb) in the raw fruit, which is quite informative when it comes to making decisions about whether to use or scrap the yield. Winemakers can make a prediction about quality at about 8-10 ppb, which correlates with the detection of smoke-taint if wine were to be made. At these concentrations the winemaker may decide the grapes are unusable. Interestingly, in some cases, smoke-taint may affect one field in a vineyard, but not another.
On the West Coast of North America and across the globe, vineyards and wineries are increasingly leveraging the power of chemical analysis to maintain quality and determine the usability of crops or specific fields. Aside from the established methods for testing for smoke-taint, when needed, custom methods can be developed to analyse additional compounds in the grapes. Winemakers and labs can work together to determine the right scope of target compounds for the particular circumstances. Smoke damage to grapes may depend on how close the fires were, which way the wind was blowing, and other physical factors.  
The extent of the damage also depends on whether the fires overlap with harvest season. Last year, labs saw a huge surge in testing demand, as fires of unprecedented numbers and size swept across the west. The need to test for smoke-taint isn't just gastronomic or ecologic, it's also economic. A major impetus for testing is that wine producers must provide data for insurance claims when crops and income are lost to smoke damage. And these effects, too, are far-reaching. More claims for damaged crops will of course affect insurance costs in the long-run; smoke-tainted crops can also raise the cost of wine for the end consumer, as a result of scarcity in years when fires are more violent or widespread.
Unfortunately, fires and other events may continue to worsen in the coming years and affect vineyards throughout the country. While researchers continue to work to understand the full effects of smoke on plant metabolism, laboratories are partnering with winemakers and other growers to test and, hopefully, salvage parts or all of a crop. Meeting these challenges will certainly require artisans and scientists to work hand-in-hand to overcome issues that the food and beverage industry faces due to climate change.
About the authors

Dr. Rob O'Brien is the founder and CEO of Supra Research and Development, an Analytical Service and contract research firm in Kelowna, British Columbia.  Dr. O'Brien has been involved as a senior executive in a variety of companies in the Cannabis and Natural Health Product sectors. Prior to engaging in the private sector, Dr. O'Brien held research academic positions at Okanagan University College and UBC Okanagan, where he specialized in Analytical Mass Spectrometry. He is currently an Adjunct Professor in the UBC Okanagan Biology Department and the Chemistry Department at Thompson Rivers University.

Richard Jack is the Global Market Development Manager for Environmental and Food Markets at Phenomenex.
Richard has more than 18 years' experience with chromatography and mass spectrometry for the environmental, semiconductor, chemical, and pharmaceutical industries. He regularly collaborates with global regulatory agencies to develop validated methods through new applications, instrumentation, column chemistries, and software.
Richard received his Ph.D. in Biochemistry and Anaerobic microbiology from Virginia Tech University, and his Master's in Ecology from the University of Tennessee.