CHANCE project develops new foods that are tasty, more nutritious and cheaper to manufacture
Posted: 11 September 2014 | European Food Information Council | No comments yet
According to a report by the European Commission Directorate-General, EUROSTAT, over 125 million people in Europe were at risk of poverty or social exclusion in 2012. The Commission has pledged to bring at least 20 million people out of poverty and social exclusion by 2020. Research programmes in this area are helping address this issue. The CHANCE project, was a three-and-a-half year initiative with funding support from the European Commission's 7th Framework Programme, aimed to address poor nutrition of European citizens by developing attractive, affordable and nutritious foods, at low cost and with traditional ingredients.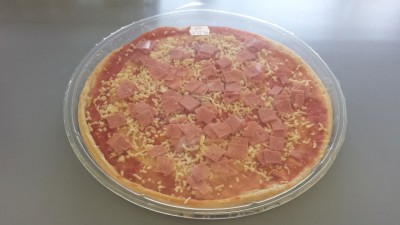 One of the main outcomes of the project was the development of CHANCE foods, which are prototypes of commonly available foods with increased nutritional qualities. These foods are a bread loaf, ham, Mozzarella-like cheese, tomato-based ketchup, a pizza made with those ingredients and a selection of blueberry-based products. These products deliver higher nutrient value and are cheaper to manufacture and package. The taste of the prototype foods was indistinguishable from equivalent brand-leading products on the market, which consumers will welcome. 
CHANCE foods – squeezing more nutrients in, lowering the cost 
Researchers from the Institute for Food and Technology of Novi Sad in Serbia led the development of the CHANCE cooked ham, which comprises less salt and a higher content of vitamins A, D, E and iron than current on-the-shelf cooked hams, in Europe. This was achieved by adding up to seven per cent pork liver to the ham. The most important increase in vitamin content was obtained for vitamin A, with the 100g portion of CHANCE ham providing 25 per cent of the recommended daily intake. Common cooked ham does not contain vitamin A. The level of vitamin E in CHANCE ham is 1.5 times higher and iron content is 25 per cent higher than in common cooked ham. The CHANCE ketchup was produced using seeds and skin – rich in fibres, from by-products of tomato processing. It contains a ten-fold increase of dietary fibres compared to commercially available ketchup.
The Mozzarella-like cheese was made from casein, which was extracted from skimmed milk by a new and simpler microfiltration technology developed by Valio6, a partner in the CHANCE project. In comparison with traditional mozzarella cheese, the CHANCE cheese has twice the amount of vitamin B12, and is lower in fat and carbohydrates.
The nutritionally enhanced CHANCE bread – created by VTT in Finland7 and BME in Hungary8 – contains higher protein, vitamins and dietary fibre than traditional bread. The total dietary fibre content of the bread was increased from six to 14 per cent, while its carbohydrate and energy content were decreased, with starch reduced from 35 to 10 per cent.The CHANCE pizza – developed by the University of Bologna (UNIBO)9, which coordinates the CHANCE project – is prepared from formulated dough containing a soybean additive and combines the CHANCE ketchup, CHANCE ham and Mozzarella-like cheese.
A selection of cheaper-to-make berry-based products was created by Valio. All products comprised 50 per cent blueberries and 50 per cent blueberry pressed cake. A new and cheaper wet-milling process to create a blueberry pressed cake which was then added to the recipes. These include a berry yoghurt, a berry soup and a smoothie containing berries and vegetables.
To further lower costs, researchers used simpler-designed and recyclable materials for the food packaging of CHANCE foods, such as the use of paper pouches for bread and thinner or semi-rigid plastics for the primary packaging of the CHANCE pizza (Figure 2b). Low-cost metal cans were also proposed as an alternative to plastics. 
Industry and consumer perspectives
One of CHANCE's research groups, based at Vilnius University10 in Lithuania, identified strategies to facilitate healthy diets. They were supported by the University of Bologna and carried out surveys of European food industries and retailers to identify overlapping interests between food producers, traders and consumers. The overall findings indicate that one barrier towards healthier food consumption and production was insufficient knowledge – both perceived and actual – of healthier foods.
The international research team interviewed over 1,000 consumers, and conducted 53 face-to-face interviews with representatives from 32 small- and medium-sized enterprises, food processing industries and 21 retailers in Finland, Italy, Lithuania, Serbia and the UK11. Focus groups and surveys were conducted to gather data and understand the barriers to healthy dietary habits. Consumer views were collected about their perceptions of food price, eating practices, beliefs on healthy eating, healthy food affordability and understanding of (and motivation towards) healthier food products.
Both the public and industry perceive healthier foods as expensive to purchase and to produce respectively, combined with the high risk of low financial return. This could be improved if industry developed new products using cheaper and healthier ingredients, as demonstrated by the CHANCE prototypes.
Increasing industry competition to emphasise the healthy aspects of food brands aimed at risk-of-poverty groups could result in higher consumption of these products. The CHANCE project's recommendations span a number of public health strategies: Education programmes, starting at school and supported by public health campaigns and advertisements; industry training on healthy food production, as well as cooking classes in retailer stores for low-income population groups; and information for consumers on healthy living tips and nutrition labels.
Marketing and labelling of these 'healthier but cheaper' products could be used to develop a 'brand strategy' to guarantee easy recognition by consumers of the quality and safety of these foods.
Identifying risk-of-poverty groups
In a parallel CHANCE study, researchers from the University of Copenhagen, Denmark12, the Magnetic Resonance Centre, University of Florence (CIRMMP) and the Unisverity of Bologna used a molecular-fingerprinting technique to identify common effects of diets on different population groups throughout Europe13,14.
Participants were recruited according to whether they fell into the risk-of-poverty (ROP) group or the affluent (AFF) population group. Urine samples were collected from 2,372 recruited participants in five centres in Finland, Lithuania, Italy, Serbia and the UK. These samples enabled researchers to apply Nuclear Magnetic Resonance techniques to measure the type and concentration of different metabolite signals. This could help identify high glucose levels for, example.
Despite extensive data mining efforts it was not possible to identify or forecast 'which' participants belonged to the ROP group from the sample data alone. The researchers hypothesise that the economic status of ROP and AFF groups is not a unique identifier for healthy eating. Variation in participants, if any, is related to personal genotype, diet, lifestyle or country.
Further statistical analysis was performed on the Italian dataset; combining the molecular-fingerprinting technique on urine samples with nutritional information garnered from participant food frequency questionnaires. Researchers identified that the consumption of fish-based foods such as seafood tended to be different and there was an uneven distribution of fish-related nutrients including Vitamin D, between the ROP and AFF groups. Also, consumption of foods such as fried chicken, turkey, fruit juices and mustard were higher in the ROP group, while the AFF group ate more white bread, fish, veal, rabbit, artichokes, cucumbers and broccoli.
Although the deeper analysis allowed better identification of some differences in nutritional habits, it revealed that making a clear separation of subjects that belong to one group or the other is not so easy. In the near future, refined data mining could reveal subtle differences in population sub-groups.
Poor diets are not just the concern of ROP groups
To compare under- and over-consumption patterns of ROP groups with national dietary recommendations, five research institutions within the CHANCE consortium conducted a nutritional study through a survey questionnaire. This was done with 1,290 participants across Finland, Italy, Lithuania, Serbia and the UK. They compared dietary trends between a ROP group of people and a control group.
Researchers, who were coordinated from the Institute for Medical Research (IMR) in Serbia, found that the main differences between the two groups were in the consumption of fruits and vegetables. Also, the consumption of 'sweet' snacks such as biscuits, cakes and chocolates was lower on average in people on a lower income, which may be due to the expensive price of these items. Although the ROP group consumed less minerals and vitamins especially iron and fibre, than the control group, a comparison of nutrient intake with national recommendations highlighted that these nutritional issues were common to both groups and independent of peoples' income. The researchers recommend that CHANCE foods can help counter malnutrition not just in ROP groups, but in the broader population too.
This EU-funded CHANCE project3 (Low cost technologies and traditional ingredients for the production of affordable, nutritionally correct, convenient foods enhancing health in population groups at risk of poverty) has received funding from the European Union's Seventh Framework Programme for research, technological development and demonstration (Grant Agreement n° 266331).
References
EUROSTAT. European Commission. People at risk of poverty or social exclusion section. http://epp.eurostat.ec.europa.eu/statistics_explained/index.php/People_at_risk_of_poverty_or_social_exclusion
European Commission. Employment, Social Affairs & Inclusion section. http://ec.europa.eu/social/main.jsp?catId=751
CHANCE press release "Healthy foods for thin wallets – New European project gives people at risk of poverty a CHANCE". Published 23 August 2011. http://www.chancefood.eu/press-release—european-project-gives-people-at-risk-of-poverty-a-chance-_46.html
CHANCE deliverable report D1.7: Report on food chain actors' overlapping interests and strategies to facilitate healthy foods supply to population groups at risk of poverty. Published January 2013.
CHANCE deliverable report D3.1: Collection of samples, standardization of procedures for acquisition of the spectra. Published 27 May 2011.
CHANCE deliverable report D3.3: Metabonomic fingerprinting of populations with different economic income and different diets. Task 3.3 Multivariate statistical analysis. Published 30 August 2012. (Including peer-reviewed academic references).
Further reading
Assfalg M, Bertini I, Colangiuli D, et al. (2008). Evidence of different metabolic phenotypes in humans. Proceedings of the National Academy of Sciences 5:1420-1424. DOI: 1073/pnas.0705685105.
Beckonert O, Keun HC, Ebbels TM, et al. (2007). Metabolic profiling, metabolomic and metabonomic procedures for NMR spectroscopy of urine, plasma, serum and tissue extracts. Nature Protocols 11:2692-2703.
Bernini P, Bertini I, Luchinat C, et al. (2011) Standard operating procedures for pre-analytical handling of blood and urine for metabolomic studies and biobanks. Journal of Biomolecular NMR 49(3-4):231-43.
CHANCE deliverable report D3.2: Metabonomic fingerprinting of populations with different economic income and different diets. T3.3 Nutrimetabonomics. Published 30 August 2012.
EUFIC (2012). Healthy food options for people at risk of poverty. EUFIC EU Projects Supplement n°2. http://www.eufic.org/article/en/page/FTARCHIVE/artid/Healthy-food-options-people-risk-poverty/
Rasmussen LG, Savorani F, Larsen TM, et al. (2011). Standardization of factors that influence human urine metabolomics. Metabolomics 7(1):71-83.
Savorani F, Tomasi G & Engelsen SE (2009). Icoshift: A versatile tool for the rapid alignment of 1D NMR spectra. Journal of Magnetic Resonance 2:190-202.