Case study: Bringing science to the art of brewing better beers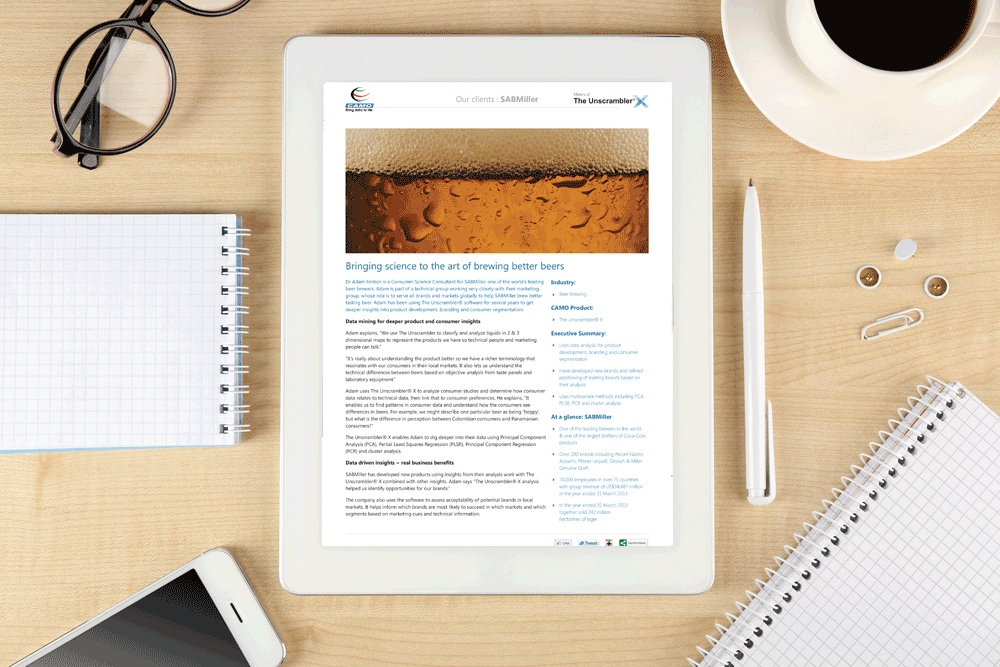 Find out how SABMiller has been using CAMO's Unscrambler® software to get deeper insights into product development, branding and consumer segmentation…
Dr Adam Fenton heads up consumer science for SABMiller, one of the world's leading beer brewers. Adam is part of a technical group working very closely with their marketing group, whose role is to serve all brands and markets globally to help SABMiller brew better tasting beer. Adam has been using The Unscrambler® software for several years to get deeper insights into product development, branding and consumer segmentation.
Data mining for deeper product and consumer insights
Adam explains, "We use The Unscrambler to classify and analyze liquids in 2 & 3 dimensional maps to represent the products we have so technical people and marketing people can talk."
Webinar: eBook: Thermo Fisher Scientific Food Integrity Collection 2017
Over the course of the year Thermo Fisher Scientific have provided expert comment on a whole swathe of issues including food fraud, origin testing and labelling regulations. This collection also provides access to Thermo Fisher's Food Authenticity webinar series for 2017, where experts delve into olive oil characterisation, gelatin speciation, honey and chromatography, and more.
"It's really about understanding the product better so we have a richer terminology that resonates with our consumers in their local markets. It also lets us understand the technical differences between beers based on objective analysis from taste panels and laboratory equipment."
Adam uses The Unscrambler® X to analyze consumer studies and determine how consumer data relates to technical data, then link that to consumer preferences. He explains, "It enables us to find patterns in consumer data and understand how the consumers see differences in beers. For example, we might describe one particular beer as being 'hoppy', but what is the difference in perception between Colombian consumers and Panamanian consumers?"
Find out how the Unscrambler® X enables Adam to dig deeper into their data using Principal Component Analysis (PCA), Partial Least Squares Regression (PLSR), Principal Component Regression (PCR) and cluster analysis…
Related organisations
Related industry sectors