Unilever reports strong, broad-based growth in 2012
Unilever has released its results for the fourth quarter and full year 2012 which show good quality and profitable growth…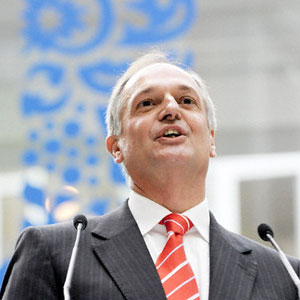 "We remain focused on achieving another year of profitable volume growth ahead of our markets, steady and sustainable core operating margin improvement and strong cash flow."
Unilever has released its results for the fourth quarter and full year 2012 which show good quality, profitable growth ahead of their markets. This underscores the good progress they are making in transforming Unilever into to a sustainable growth company.
Full year highlights
Turnover increased by 10.5% to €51.3 billion with a positive impact from foreign exchange of 2.2% and acquisitions net of disposals of 1.1%
Underlying sales growth 6.9% comprising volume growth of 3.4% and price growth of 3.3%
Emerging markets underlying sales growth 11.4% now representing 55% of turnover
Core operating margin up 30bps to 13.8%; gross margin up 10bps, advertising and promotions up €470 million at constant exchange rates
Core earnings per share increased by 11% to €1.57; free cash flow of €4.3 billion
Fourth quarter highlights
Underlying sales growth 7.8% with volume growth of 4.8% and price growth of 2.9%.
Commenting on the results, CEO Paul Polman said: "These results have been achieved in tough economic conditions, with volatile commodity costs and in an intensely competitive environment. They reflect the progress made in delivering bigger, better innovations and rolling them out faster, improving our execution in the market place and increased discipline driving savings in all areas of the business.
"We remain focused on achieving another year of profitable volume growth ahead of our markets, steady and sustainable core operating margin improvement and strong cash flow."
Unilever's markets
Throughout 2012 Unilever's markets experienced markedly different dynamics as emerging markets grew in both volume and value terms whilst developed market value remained subdued, with volumes lower than prior year.
Unilever performance
In this context Unilever delivered another quarter of solid growth. All of their categories grew, driven by the combination of strong innovations, sharpened in-market execution and the rollout of our brands to new markets.
Emerging markets underlying sales growth was 10.8% in the quarter, evenly split between volume and price, taking the full year underlying sales growth to 11.4%. The developed markets grew 4.0% in the quarter and were up 1.6% in the full year.
Foods
Foods growth in the quarter was weak, in part due to difficult markets. In spreads they saw a decline in sales although volume shares improved in response to actions we took to ensure that their pricing was competitive. There is still more to do to drive category growth, for example their successful liquid margarines for use in cooking. During the quarter, Becel Gold was extended to the Nordics and Bertolli Gold was launched in the UK. Dressings continued to perform well despite a step-up in competitive intensity. Unilever continued to benefit from their campaign to inspire new uses of mayonnaise and they are also seeing the impact of successful digital activities.
Despite sluggish growth in the core savoury business, new product innovations continued to perform well. Knorr jelly bouillon grew strongly driven by new variant launches such as Borsch and White Mushroom in Russia and Herbs and Spices in Austria and Switzerland. Knorr baking bags also grew rapidly and gained share in most markets despite intense competition. Unilever's Food Solutions business, serving professional chefs, delivered solid results despite challenging developed markets, underpinned by double digit growth in key emerging markets.
Refreshment
Ice cream saw double-digit growth in the quarter, primarily driven by volume. Magnum completed a successful year by passing the €1 billion milestone on the back of Magnum Infinity and the recent launches into new countries such as the Philippines. Cornetto and Max both grew strongly in 2012. Ben & Jerry's also performed well although we saw intense competition in take home ice cream, particularly in the US.
Beverages growth continued to improve in the quarter with Lipton progressing well, underpinned by the success of teapot bags in Turkey and the relaunch of the brand in Russia. India delivered a strong performance on Brooke Bond with double-digit growth in both the premium and value segments of the market.