Jeff Rooker to step down as Food Standards Agency Chair in 2013
The Food Standards Agency Chair, Jeff Rooker, has confirmed that he will step down from his post in July 2013…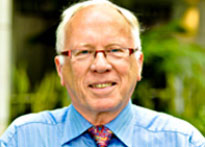 Jeff Rooker, Food Standards Agency
The Food Standards Agency Chair, Jeff Rooker, has confirmed that he will step down from his post in July 2013, at the end of his four year contract.
Jeff Rooker said: 'When I joined the FSA I said that I was excited to be joining an organisation that puts sound science at the heart of what it does and places the interests of consumers first. I am proud that we have stayed true to those principles. I have thoroughly enjoyed my time at the FSA but wanted to be clear now that I will step down when my current contract ends.
'The FSA is an excellent organisation staffed by people who are passionate about food safety. We work with a range of stakeholders across all four nations who share that passion and that makes the role of Chair a fascinating one. The remaining time until next July will I know be busy – there are two particular priorities for me.
'First I would like to see all local authorities in England, Wales and Northern Ireland using the Food Hygiene Rating scheme (FHRS) and in Scotland using the Food Hygiene Information Scheme (FHIS). We have made incredible progress in getting local authorities signed up to these schemes and it gives me great pleasure to see the distinctive stickers proudly on display the length and breadth of the land. I'd also like to press the argument that the display of FHRS/FHIS ratings should be made mandatory, as it is likely to be in Wales from 2013. Only when every café and restaurant displays its sticker can we help consumers make the safest choice when eating out.
'Second we are working closely with the Scottish Government on their goal to create a new food body for Scotland. That process will take some time, but it is vital that the interests of consumers in Scotland continue to be protected during the transition. I will ensure that happens.
'I look forward to continuing to work with colleagues in the Agency and externally over the next seven months.'
Jeff Rooker joined the Food Standards Agency on a four year contract in July 2009. The appointment is made by the Secretary of State for Health and details of the recruitment process for a new Chair for the Agency will be published in the New Year.
Related organisations
Related people