Production of Nestlé breakfast cereals kicks off in Malaysia with new factory
Consumers in Asia can enjoy Nestlé breakfast cereals produced in Malaysia for the first time…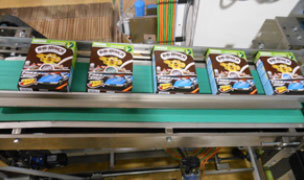 IMPORTER TO EXPORTER: Nestlé breakfast cereals distributed to Malaysia and the rest of Asia.
Consumers in Asia can enjoy Nestlé breakfast cereals produced in Malaysia for the first time following the opening of a new CHF 35 million manufacturing facility in the country.
The new factory in the village of Chembong, Negeri Sembilan, will manufacture Nestlé branded products such as Koko Krunch, Honey Stars, Cookie Crisp, Koko Krunch Duo and Milo, to be distributed across the country and the rest of Asia.
It aims to generate about 160 jobs at full capacity over the next few years.
The new factory is owned and operated by Cereal Partners Worldwide (CPW SA), a joint venture between Nestlé and General Mills.
New dimension
"Our latest development adds a new dimension to our relationship with Malaysian consumers," said Peter R. Vogt, Managing Director of Nestlé Malaysia.
"CPW is now able to offer Malaysian-made Nestlé breakfast cereals in Malaysia. Plus it is sourcing up to 70% of its raw materials from within the country."
Importer to exporter
Mr Vogt was joined by Wen-Wen Paquette Wang, Regional Director for Cereal Partners Worldwide in Asia, at the opening event.
"Our new factory means we have moved from being an importer to an exporter of breakfast cereals in Malaysia," she said.
"More than half of the breakfast cereals produced at the site will be exported to markets across Asia such as Singapore, Indonesia, Hong Kong, Taiwan, Pakistan, Bangladesh, Vietnam, Sri Lanka and Fiji."
Head of State for Negeri Sembilan, Tuanku Muhriz Ibni Almarhum Tuanku Munawir, and the Malaysian Minister of International Trade and Industry, Y.B. Dato' Sri Mustapha bin Mohamed, also attended.
Continued commitment
The investment in Chembong, Malaysia, follows the opening of a new CHF 112 million manufacturing facility to produce Coffee-mate non-dairy creamer products in the Philippines in October 2012.
Nestlé also invested in its research and development centre in Singapore earlier this year to boost its expertise in micronutrient fortification and Popularly Positioned Products (PPPs).
Last year Nestlé invested CHF 230 million in a new Nescafé coffee factory in Dong Nai province in Vietnam and CHF 98 million in its existing factories in Thailand to increase the manufacturing of its products including coffee and ice cream.
And the company announced another CHF 100 million investment in its factory in Karawang, Indonesia, to meet Indonesian consumers' increasing demand for nutritious, branded products at affordable prices.
Cereal Partners Worldwide
Cereal Partners Worldwide is a 50/50 joint venture between Nestlé and General Mills which began operations in 1990.
It produces and sells breakfast cereals, the majority of which are Nestlé branded, in more than 140 countries outside North America.
The Chembong factory is CPW's 17th factory worldwide.
Nestlé in Malaysia
The new factory adds to Nestlé's seven manufacturing factories in Malaysia.
Nestlé started its operations in 1912 as the Anglo-Swiss Condensed Milk Company in the Malaysian state of Penang.
It set up its first factory 50 years later in Petaling Jaya, near to the capital of Kuala Lumpur, producing sweetened condensed milk, the beverage brand Milo, and tomato and chilli sauces.
Nestlé Malaysia, which currently employs more than 5,700 employees, is the company's global Halal Centre of Excellence.