Food Standards Agency Board members announcement
Chair Jeff Rooker announced with regret the resignation of Board members Clive Grundy and Sharmila Nebhrajani…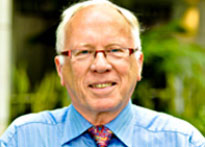 Jeff Rooker, Food Standards Agency
At the Food Standards Agency's open Board meeting today, Chair Jeff Rooker announced with regret the resignation of Board members Clive Grundy and Sharmila Nebhrajani. Their resignations are effective immediately.
The Chair said: 'Sadly Clive is stepping down on the grounds of ill health, having been a Board member since February 2008. He has been a tremendous asset to the Agency during these five years and the Board have particularly appreciated and enjoyed his thoughtful, precise and considered contributions during our meetings.
'During his term of office Clive has served on the Audit and Succession Committee, the Development Committee and also as a member of the Meat Hygiene Service Board until it merged with the FSA in April 2010. We will miss his wise counsel.
'Sharmila, who joined the Board in June 2012, has decided that in the light of her other professional commitments she is no longer in a position to commit the time to the Board that she had hoped. She has therefore offered her resignation with immediate effect.'
A recruitment campaign for new Board members will be held in the New Year.
Related organisations
Related people