GEA toolings provide greater flexibility and advanced performance
For its packaging and forming machines as well as for its grinding and cutting equipment, GEA has developed different toolings to make sure the machines always fulfill their demands.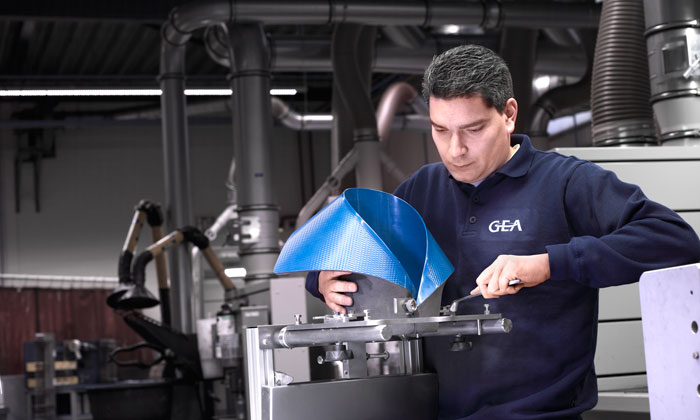 GEA Shoulders for SmartPackers are hand crafted for unmatched quality and lifetime (credit: GEA)
Whether it affects the shape, size, taste, quality, or safety and economic needs for the end product, GEA Toolings brings the latest innovations and developments to meet all those new requirements.
The main advantages are a reduction in manufacturing costs, extended lifetime of new tools and greater flexibility to get new products to market as well as enlarging the product range. GEA Toolings is quickly available with a minimum capital investment and a very short implementation time. At the upcoming IFFA trade fair in Frankfurt (Germany), GEA experts will be available to inform customers about the wide range of GEA Toolings for its several food processing machines.
GEA FormPlates: Precision engineered to match forming machines
With the original GEA FormPlates, customers can make every gram of their product count. OEM quality ensures minimised give-away and optimised shape, quality and portion weight of formed products. In addition to regular form plates, GEA is also able to design customised ones and with that responding quickly to customers' demands and seasonal trends.
The GEA FormPlate Creator is a unique free service that contains a huge variety of shapes that can be turned into a custom form plate. After receiving some details, including the machine type, choice of raw material, choice of plate material, average product weight, and proposed production volume, a PDF drawing of the form and form plate and a cost estimate is available within minutes. With this service from GEA, customers can turn their creative ideas into business realities and manufacture products with extra appeal.
GEA Shoulders for SmartPackers: Handcrafted for unmatched quality and lifetime
With GEAs bag forming sets for SmartPackers, customers can lower their operational costs. High tech composites used for GEA Shoulders ensure lower wear rates and up to 10 times longer life as compared to stainless steel shoulders. In addition, the shoulders can easily be repaired in case of damage. The new standard forming set is delivered as a fiberglass-reinforced version with an insert.
This version is stronger than the conventional forming set and therefore ensures less wear, extra protection and longer operational life. An insert also makes it possible to produce both overlaps and tucked seams with one and the same shoulder. Finally, each forming set is equipped with a rigidised surface to ensure smooth running in a moist/wet environment. In short GEA Shoulders provide complete peace of mind with unique design, high tech composite materials, simpler maintenance, lower operational costs and increased reliability.
Perfection down to the smallest detail with knives for GEA CutMasters
GEA TopCut is a self-contained knife head system for GEA CutMasters that combines high-speed cutting with performance benefits in terms of handling, hygiene and product quality. It is available on all CutMaster bowl cutters and can be fitted as a field upgrade to existing machines.
Designed to increase productivity and be more user-friendly, the patented GEA TopCut knife system delivers consistent quality for a wide range of products. Fine emulsions are produced in combination with a removable sliding plate, while removing the plate enables coarser cuts to be produced without smearing. In addition, a range of universal and special knives is available for GEA CutMasters.
GEA Holeplates, Knives and Precutters for grinders ensure consistent quality
From fresh or frozen meat to vegetables and cheese – no matter what application, GEA Holeplates, Knives and Precutters for GEAs grinding equipment are working perfectly together. They ensure the highest product quality by grounding products to different mixes, like a rough one or to an emulsion e.g. for sausages. The toolings for GEA Grinders are available for the latest as well as older machine types with fast delivery times by fair pricing.
GEA Diesets are the right choice for continued packaging performance
Equipping GEA Thermoformers with original Diesets ensure top performance. GEA Diesets are custom-designed for a perfect fit, precisely engineered, with the possibility to upgrade and add applications. The Diesets are fully documented and include all required certifications.
Get in contact with GEA experts and learn more at the IFFA trade fair in Frankfurt, Germany (May 4-9, hall 8, booth D06).