Insight: unlocking Africa's long-term potential
Next month I will join our CEO Paul Bulcke to inaugurate our first factory in Angola…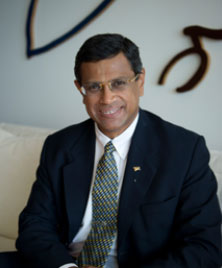 Nandu Nandkishore: Nestlé Zone Diretcor for Asia, Oceania, Africa and the Middle East
Next month I will join our CEO Paul Bulcke to inaugurate our first factory in Angola, one of six countries in sub-Saharan Africa whose economies were among the top ten fastest-growing in the world over the last decade.
When you think about it, this is an extraordinary statistic. People used to characterise Africa only in terms of poverty. Today, Africans are building strong economies and looking to companies like us to be their partners.
We have been present in Angola for more than 55 years and we've seen the country undergo an economic transformation since its decades of civil war ended in 2002. It's a transformation that reflects wider growth patterns across Africa.
While many of the world's developed economies are slowing down, many African economies are not. Incomes are rising and so is consumer spending.
It's been 85 years since we opened our first factory in Africa and we now have a total of 29 on the continent. Demand for our products is such that we're on track to more than double our business here by 2020.
Long-term view
In spite of such economic growth, Africa remains a continent of immense contrasts.
According to the United Nations Development Programme's 2012 report on Africa's progress towards the Millennium Development Goals, although the number of people in sub-Saharan Africa living on less than USD 1.25 a day has declined, this decline has been slow and decent jobs are still hard to find.
There are no short-term solutions to these challenges. At Nestlé we've always believed the best way we can contribute to unlocking Africa's potential is by taking a long-term view.
Our products have been sold in Africa for more than 130 years. In the past five years we've invested about USD 1.2 billion in the continent to build up our local manufacturing capabilities, expand our distribution networks and develop more products catered to local tastes and needs.
Multi-tier strategy
We've adopted a multi-tier strategy to make our brands available to consumers across socio-economic segments in all 54 countries in Africa. This includes products for the continent's growing middle class.
This report from the African Development Bank predicts Africa's middle class will number about 1 billion by 2060, accounting for 42% of its population.
Our premium portioned coffee brand Nespresso is popular among urban professionals in South Africa, while our Mövenpick premium ice cream does well in Egypt.
We also ensure lower income consumers have access to high quality affordable nutrition with our 'popularly positioned products'.
These, locally adapted, tasty food and beverages are often sold in single servings to enable consumers to buy them on a day-by-day basis.
Most, such as our iron-fortified Maggi bouillon cubes in Central and West Africa (CWAR), are carefully formulated to help address micro nutrient deficiencies prevalent in specific regions.
Building entrepreneurial spirit
Africa is urbanising rapidly. About 40% of people on the continent live in cities, where transport networks are often extremely variable.
Street selling programmes like Nestlé Professional's 'My Own Business' in CWAR help our products such as Nescafé reach consumers in cities' most congested areas.
These programmes also provide training – building entrepreneurial spirit among young people, many of whom were previously unemployed.
Channeling local talent
Africa has the world's youngest population.. Today 200 million people aged between 15 and 24 live on the continent, a number that is projected to double by 2045.
I believe it's vital they are given the chance to flourish.
We employ more than 15,000 people directly in Africa. As a major employer, we recognise we can play a part in helping to develop the next generation of young African professionals.
In Accra, Ghana we have been working in partnership with local universities to recruit young graduates for the majority of the positions at our new Shared Services Centre.
At our factory in Agbara, Nigeria, we're supporting a group of student engineers to study for an internationally recognised vocational qualification. And, we'll invite a select group to Switzerland to gain international experience at our operations here.
Creating Shared Value
Over the years we've strengthened our relationships with the local farmers who produce some of our most important raw materials to maximise our use of local ingredients.
Today we're involved in a number of projects to increase yields of raw materials including cassava, cocoa and coffee.
In Kenya and Uganda, we have a partnership with the East African Dairy Development Board to help farmers secure increased, sustainable milk production.
In Nigeria, Ghana and Côte d'Ivoire we work directly with cereal grain and legume producers to reduce levels of biological toxins found in crops. Our agronomists and technical advisors teach farmers how to grow grains that not only attract a higher market value, but also reduce health risks to the local people who consume them.
Working with the local communities where we operate to create opportunities for them and help improve their livelihoods, at the same time as developing our own activities, is an approach to business we call 'Creating Shared Value'.
I'm proud of this. It's only by understanding the changing needs of our producers, suppliers, consumers and employees in Africa that we can continue to play a role in the rise of this remarkable continent.
Related organisations
Related people