ProMinent reports positive conclusions from Hannover Messe 2019
ProMinent has concluded that everything had gone very well at the five-day trade fair, Deutsche Messe AG.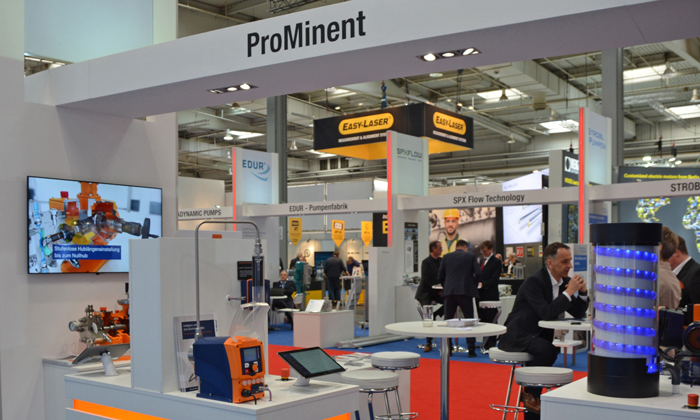 Web-based solutions for metering and process technology. Metering pumps coupled with DULCOnneX gateway make for simple process monitoring, analysis and optimisation. Through digital networking, all the required information is available for optimum system control, ensuring fault-free processes at all times
"Hannover Messe 2019 has demonstrated that it is the most important platform internationally for all technologies associated with industrial transformation," said Dr Jochen Köckler, Chair of the Board at Deutsche Messe AG.
The focus for ProMinent at the event was on motor-driven metering pumps, low-pressure metering systems, as well as process and peristaltic pumps. The positive sentiment regarding the event was echoed by Torsten Silkenbeumer, key account manager for process technology at ProMinent: "Our involvement in the Pump Plaza produced numerous leads in Germany and abroad. Alongside our metering and process pumps, visitors were especially interested in our web-based solutions for digital fluid management."
Discussions with users and decision-makers, ready to invest and needing metering systems, measuring and control technology or water treatment systems in the next 12 months, opened up very promising prospects.
The ratio of national to international visitors is almost a perfect match with the debriefing from Deutsche Messe AG: around 60% of visitors from Germany and almost 40% from abroad.
The global ProMinent Group used this international platform to demonstrate how its web-based solutions minimise the consumption of resources and costs, while streamlining process workflows. To do this, the global system provider combines pumps with its own measuring and control technology developed and manufactured in house.
The result is complete systems and plants that can be used to measure, control and meter in an efficient, environmentally friendly and sustainable way.
Related topics
Related organisations
Related people