Insight: creating the right environment for innovation
As Nestlé's Chief Technology Officer, I am often asked what it takes to be innovative…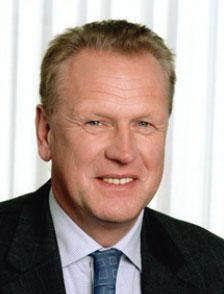 Werner Bauer, Nestlé Chief Technology Officer
As Nestlé's Chief Technology Officer, I am often asked what it takes to be innovative. For me, it is about creating the right environment for ideas to flourish.
The most innovative companies embrace a culture of engagement, openness and sharing – within their own workplace and outside it. Their ability to do this very much depends on the external surroundings in which they operate.
We are the world's leading fast moving consumer goods company, in part thanks to our roots in Switzerland, one of the world's most productive and stable environments for innovation.
That's why we're pleased the country has been ranked number one in the World Intellectual Property Organization (WIPO) and INSEAD graduate business school's annual 'Global Innovation Index' for the second year running.
This ranking of 141 emerging and developed markets measures criteria such as research institutions, infrastructure, credit, investment, links between industry and academia, patenting, scientific publications, and creative outputs.
It is a valuable benchmarking tool that encourages dialogue between policy makers, business leaders and other stakeholders.
Significant investment
It's obvious to me there are a number of advantages to conducting research and development in Switzerland. Not least, it offers an attractive living and working environment to prospective employees and their families.
Our founder Henri Nestlé, a German pharmacist, launched his first product 'Farine lactée' in Switzerland in 1867. We have significantly invested in our research and development capabilities in the country ever since.
Today, half our annual research and development spend is concentrated in Switzerland. It is home to our international headquarters and eight of our 32 worldwide research and development centres.
This year alone we are inaugurating three new research and development facilities in the country: the Nestlé Institute of Health Sciences, a system technology centre for systems such as Nespresso, and a new unit for clinical research.
Exceptional talent pool
Switzerland's dual system of general and vocational education provides companies large and small with an exceptional talent pool.
I believe Swiss universities are among the best in the world. Every year they produce outstanding graduates, many of whom we recruit for our international graduate programmes. In 2011, our recruitment centre in Switzerland hired 125 of these highly-qualified young people.
At the same time, vocational education is an extremely valuable way of preparing the next generation for the workplace. We support vocational training by recruiting more than150 apprentices every year in Switzerland, whether that's to our R&D centres, our factories or our headquarters.
'Cluster thinking'
The strength of links between clusters of manufacturing companies, service providers, financial institutions, universities, and government organisations in Switzerland has a significant impact on innovation.
By basing the Nestlé Institute of Health Sciences (NIHS) at the Swiss Federal Institute of Technology (EPFL) in Lausanne, we've ensured it is fully integrated into local life sciences activities at the university, enabling the kind of in-depth connectivity and networking that really helps drive our innovation forward.
This 'cluster thinking' is an important aspect of not only our local relationships in Switzerland, but also our many international collaborations and partnerships.
Sustained investment
When Henri Nestlé launched his first product 145 years ago he could not have foreseen Switzerland's future position as the champion of innovation it is today.
Nor could he have imagined that, thanks to its sustained investment in innovation, his company would play an important part in this evolution.
I'm certain he'd be pleased to know we're still very much part of an environment that not only encourages inquisitive thinking, but also helps develop ideas to ensure business growth for the long term.
Related organisations
Related people