Beyond Meat rumoured to be going public
If true, it would be the first plant-based meat company to do so.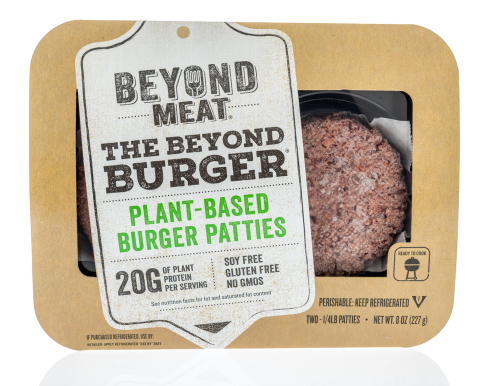 In the US, rumours are rife that vegan start up Beyond Meat – which has thus far enjoyed private funding from individuals including Bill Gates and Leonardo DiCaprio – is planning to go public. An unnamed source claims that the company is in talks with investment banks Credit Suisse, Goldman Sachs and JP Morgan as it plans its first Initial Public Offering (IPO).If the rumours – as reported by Plant-Based News and Forbes – are true, it would make Beyond Meat the first plant-based meat company to make its shares available for trading on public markets.
 Some $72 million has been invested in the company since it was founded in 2009 in Missouri, US, by CEO Ethan Brown, In June 2018, Beyond Meat opened its second production facility in Columbia, Missouri, resulting in a three-fold increase of the company's manufacturing space and some 250 new jobs. 
Reports suggest Beyond Meat now has 27,000 different points of distribution for its products in the United States. In July, the company said it was rolling out its products – which include Beyond Sausages, Beyond Chicken Strips and Beyond Beef Crumbles, all made from plant protein and soy- and gluten free –  to 50 international markets, partnering with A&W in Canada and Tesco in the UK. Despite a successful soft launch, however, Tesco has subsequently delayed roll-out of Beyond Burgers in it UK stores indefinitely. In response to that delay, Beyond Meat's Executive Chair, Seth Goldman, was quoted as saying "We are taking steps to make sure that, when we do launch, we will be sure to have enough products to keep the shelves full."
Related organisations
Related people