Nestlé continues to develop its operations in Chile with CHF 127 million investment
Nestlé has invested more than CHF 127 million (USD 140 million) in a new factory in Chile…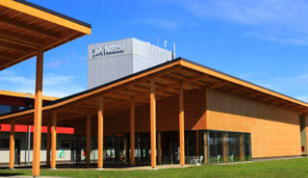 New dairy factory will provide 300 direct jobs and 1,500 indirect jobs.
Nestlé has invested more than CHF 127 million (USD 140 million) in a new factory in Chile as part of its continued commitment to developing its operations in the country.
The factory will produce a range of milk products and ingredients with added nutritional value for domestic consumption and for export to the United States, Central America, the Middle East and Asia.
When fully operational, the factory will have a production capacity of 30,000 tonnes of milk powder, enabling Nestlé to meet increased demand for dairy products that offer a nutritional 'plus'.
One of the most technologically advanced dairy factories of its kind in the world, it will provide 300 direct jobs and 1,500 indirect jobs.
Added-value products
Felipe Larraín, Chile's Finance Minister, and Environment Minister Maria Ignacia Benitez, attended the factory's opening ceremony with Nestlé Chief Executive Officer Paul Bulcke.
, Chief Executive of Nestlé Chile, local officials, farmers and members of the local community were also present.
"This factory will produce dairy products with added nutritional value that meet the different needs of our consumers, both in Chile, Latin America and in other countries around the world," said Mr Bulcke.
"Through continuous investment and innovation we are always striving to provide our consumers with products that meet their nutritional needs at every stage of their lives."
Long term commitment
The new factory is located in the region of Osorno in southern Chile.
It is the latest in a long line of investments Nestlé has made in the country since it started its operations with dairy products in 1934.
"Nestlé's latest investment in Chile is a sign of our continued confidence in our future in the country," Mr Bulcke added. "Our operations in Chile have always been a source of development and innovation."
Rural development
As with Nestlé's other dairy factories around the world, the Osorno manufacturing site is situated in a rural area close to the dairy farms that supply it with fresh milk.
This not only enables Nestlé to trade directly with farmers, but also to provide them with technical assistance and training to improve milk production and quality.
"We have built an excellent collaborative relationship with our milk producers in Chile over the years," Mr Bulcke continued.
"By working with farmers in this way, we have fostered a long-term, mutually beneficial partnership. This is our approach to business we call Creating Shared Value."
In Chile, Nestlé operates a dairy support programme in all the regions where its milk factories are located. It reaches a total of about 1,200 milk producers.
Since 2001 the company has also participated in a government initiative that aims to strengthen the relationship between private companies and their suppliers.
Nestlé in Chile
Nestlé Chile is part of the Nestlé Group. Worldwide, Nestlé employs about 328,000 people and has factories or operations in almost every country in the world. The Group sales for 2011 were almost CHF 83.7 billion.
Nestlé's products were first sold in Chile in 1895. The company today has seven other factories, including its latest in Osorno.
In Chile, Nestlé sells a range of local brands including Savory ice cream, Sahne-Nuss chocolate and McKay biscuits, alongside internationally recognised brands such as Nescafé and Maggi.
In 2010 the company opened its first Research and Development Centre in South America in the Chilean capital Santiago.
The centre leads Nestlé's global research and development efforts for biscuits and cereal-based snacks.