Nestlé strengthens research and development for fast-growing markets in Asia
Nestlé is strengthening its global research programme by expanding its R&D centre…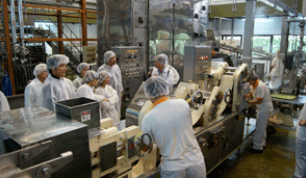 NOODLE-MAKING TECHNOLOGY: The R&D centre serves fast-growing markets in the Asia-Pacific region.
Nestlé is strengthening its global research programme by expanding its research and development centre in Singapore
The centre, which serves fast-growing markets in the Asia-Pacific region, leads Nestlé's expertise in micronutrient fortification and Popularly Positioned Products (PPPs).
PPPs are food and beverages that provide nutritional value at an affordable cost, in an appropriate size, for lower income consumers.
Those developed by the company's experts in Singapore include Maggi Masala-ae-Magic, a spice mix for consumers in India fortified with iron, iodine, and vitamin A, and iron-fortified Maggi Sajian Leluarga noodles for families in Malaysia.
Nestlé's investment of almost CHF 4 million (5.5 million Singapore dollars) in the centre will support product development in a number of categories including culinary, malt beverages and coffee mixes.
"Innovate in Asia, for Asia"
"We took an important step when we set up our research and development centre in Singapore in 1981," said Paul Bulcke, Nestlé's Chief Executive Officer. "It was then our first R&D Centre in Asia, and our response to fast economic growth in the region.
"Singapore's strategic location…has made it an ideal base from which to drive our pan-Asian operations," he continued.
"It is well-positioned to help us successfully innovate in Asia, for Asian consumers."
Global network
Nestlé's research and development centre in Singapore is part of the company's global network of 32 R&D centres.
Its success led the company to establish two other R&D centres in Asia: in Shanghai in 2001 and in Beijing in 2008.
Products developed in Singapore are sold in 16 countries including India, Indonesia, Malaysia and Japan.
100 years celebration
Mr Bulcke was speaking at an event to mark Nestlé's 100th anniversary in Singapore.
"We are deeply grateful for the trust Singaporeans have put in our brands throughout the years and look forward to the next 100 years of serving future generations of Singaporeans," he said.
"Our in-depth knowledge of the local markets in which we operate is linked to our long-standing presence in these countries, as is the case here in Singapore."
Household name
Nestlé began trading in Singapore 1912 as the Anglo-Swiss Condensed Milk Company, selling Milkmaid condensed milk.
Over the past century Nestlé has invested heavily in the country, setting up its most comprehensive network of operations in the Asia, Oceania and Africa region.
Today, Nestlé employs more than 600 people in Singapore. It operates one major factory, in Jurong, home to the company's largest malt extract manufacturing plant in the world.
Related organisations
Related people