Nestlé highlights global water shortfall at World Economic Forum
Nestlé Chairman Peter Brabeck-Letmathe has highlighted the global water shortage in a speech at the World Economic Forum…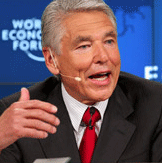 Nestlé Chairman Peter Brabeck-Letmathe
Nestlé Chairman Peter Brabeck-Letmathe has highlighted the global water shortage in a speech at the World Economic Forum in Davos, Switzerland.
Mr Brabeck-Letmathe warned that the water shortfall over the next two decades will reduce global cereal production by a third and could trigger social unrest.
The water shortage would intensify competition between countries for access to water, he said.
To help tackle the issue, Mr Brabeck-Letmathe announced that the 2030 Water Resources Group (WRG) is being scaled up.
Funding and support
The WRG is a public-private initiative that provides guidance and new policy ideas on water resource scarcity.
It was formed in 2008 following the United Nations' call for businesses and governments to address the issue of water security.
Nestlé is part of the group working alongside other members such as McKinsey & Company and the World Bank Group.
Mr Brabeck-Letmathe, Chairman of the WRG, said that the group will benefit from funding from the International Finance Corporation and the Swiss Agency for Development Corporation.
It will also receive support from the Inter-American Development Bank and other global companies.
Need for political leadership
Furthermore two documents from the WRG that demonstrate the need for political leadership on the water shortage issue, especially from countries such as India, Jordan and Mongolia, will be published for members of the International Business Council (IBC).
The IBC is an advisory body for the World Economic Forum.
Defining commitments
Mr Brabeck-Letmathe is joined by Paul Bulcke, Nestlé Chief Executive Officer, and other members of the company's Executive Board at the Forum.
Mr Brabeck-Letmathe and Mr Bulcke will take part in sessions on Creating Shared Value.
This is an important topic for the company as it is Nestlé's approach to business that aims to create value for its shareholders at the same time as for those communities where it operates.
Mr Bulcke will also take part in a session on the Business 20 (B20).
B20, part of the G20 Summit, is an event which aims to define commitments from business leaders and organisations on issues such as economic policies and food security.
Nandu Nandkishore, Nestlé's Zone Director for Asia, Oceania, Africa and the Middle East, has taken part in the 'Nexus' session to discuss solutions for food, water, energy and climate change issues.
World Economic Forum 2012
More than 2,500 international leaders from business, government and civil society are attending this year's five day summit event which addresses the theme 'The Great Transformation: Shaping New Models'.
Related organisations
Related people