Nestlé supports coffee farmers in India as demand grows
Nestlé to set up its first coffee 'demonstration' farm in India to help farmers improve quality, productivity and sustainability…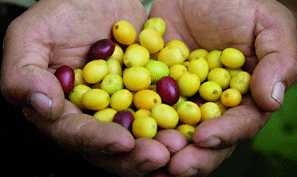 HIGH QUALITY: Nestlé will help farmers develop their agricultural practices.
Nestlé is setting up its first coffee 'demonstration' farm in India to help farmers improve quality, productivity and sustainability.
The company is helping coffee farmers in the states of Karnataka, Kerala and Tamil Nadu to develop their agricultural practices as demand for Nescafé soluble coffee grows in the country.
Nestlé aims to provide farmers with high-yielding, disease resistant plantlets developed by its research and development teams.
Through the initiative, the company seeks to source coffee sustainably by working closely with Indian coffee farmers and ensuring competitive prices, transparency and traceability.
Nescafé Plan
Nestlé's work with Indian farmers is part of the company's Nescafé Plan, a CHF 350 million investment in coffee projects over ten years.
The plan has already been established in China, Colombia, Côte d'Ivoire, Indonesia, Mexico, Philippines, Thailand and Vietnam.
It promotes responsible and sustainable practices across Nestlé's coffee supply chain.
The plan's objectives include doubling direct coffee purchases by 2015 and delivering 220 million higher quality coffee plantlets to farmers by 2020.
World's leading coffee brand
"Nescafé is the world's leading coffee brand," said Nandu Nandkishore, Nestlé Executive Vice President and Zone Director for Asia, Oceania, Africa and the Middle East.
"As a leader, we have a responsibility to continue to supply good quality coffee to consumers, while ensuring that coffee farming remains attractive for farmers and is sustainable across the value chain.
"The Nescafé Plan demonstrates our commitment to working with thousands of farmers around the world, including in India, to provide training and technical assistance," he continued.
"By working with farmers in this way, we know where the coffee comes from, and they know they have a partner who will give them competitive prices for high quality produce."
"There is a mutual interest," he added. "If we want to be successful in the long-term we need to create value for our shareholders at the same time as for the communities in which we operate."
One million Facebook fans
Nescafé coffee was launched in India in 1963. It is the leading soluble coffee brand in the country.
Products are available in different sizes and at different price points, from affordable single serve sachets to premium blends.
Nescafé's popularity has led to it becoming one of the most followed consumer brands on social media in India.
Its Indian Facebook page, created in August last year, already has more than one million fans.
The page is linked to the brand's national television advertising campaign 'Know Your Neighbours', starring Indian actress Deepika Padukone.
The TV commercials direct consumers to Facebook. There, they can join conversations and take part in competitions, as well as watch previous episodes.
Related organisations
Related people