Nestlé hits target of zero waste at UK factory
Nestlé marked another milestone in its commitment to environmental sustainability by achieving zero waste to landfill…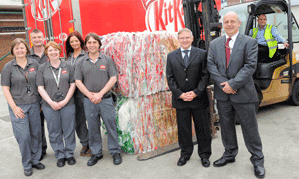 THE YORK FACTORY: CHF 160,000 (nearly GBP 120,000) a year has been saved, due to removing landfill tax costs and reducing the number of skip lifts used by 70%.
Nestlé marked another milestone in its commitment to environmental sustainability by achieving zero waste to landfill at its Kit Kat and Aero confectionery factory in the United Kingdom.
Nestlé UK announced last week that the triumph at the York-based factory follows its ambitious target set in 2009 to achieve zero total waste by 2015 for all 14 factories in the UK and Ireland.
This latest accomplishment also backs the Company's goal to reduce the environmental impact of its 443 factories worldwide.
By achieving zero waste, the factory – which makes over a billion of the Kit Kat chocolate wafer bars and 183 million Aero chocolate bars each year – has saved over CHF 160,000 (nearly GBP 120,000) a year.
Such savings were made due to removing landfill tax costs and reducing the number of skip lifts used by 70%.
Nestlé UK has also generated extra revenue by selling nearly 800 tonnes of leftover materials such as cardboard, plastics, metal, pallets and metallised film.
Paul Grimwood, Chairman and Chief Executive Officer for Nestlé UK & Ireland, emphasised the importance of its attainment but stressed there is still much to do in the Company's sustainability journey.
He said: "At Nestlé we are committed to manufacturing and doing business in a way that protects the planet and its resources for future generations and helps our local communities thrive.
"Making such progress in reducing the amount of waste our factories send to landfill, how much water we use and packaging we produce are significant steps. I am very proud of what our employees have achieved in such a short time."
The Company's Girvan factory in Scotland, which manufactures chocolate crumb, a key ingredient used in Nestlé's confectionery chocolate brands, and its Nescafé Cappuccino factory in Dalston in the United Kingdom, both achieved zero waste last year.
Nestlé has also continued to lead initiatives and innovative projects to reduce waste and advance environmental sustainability across its operations around the world.
For example, a total of 21 factories utilise unused coffee grounds as a renewable energy source.
One of the most recent sites to implement this practice is the Cagayan de Oro Nescafé factory in the Philippines which uses a state-of-the-art boiler to recycle and burn unused coffee grounds, sawdust and coconut shells. The factory also has a solid waste management programme and communal eco-garden which sells recyclable materials made from household waste and organic fertiliser made from biodegradable waste.
Further illustrating the Company's aim to reduce waste and cut down the amount of water it uses, around 70% of Nestlé's rurally located factories in developing countries have a built-in water treatment plant.
For example, at its Mossel Bay factory in South Africa which produces milk powder, Nestlé introduced an innovative approach to reusing water from its production.
Milk powder production is based on the separation of the milk's liquid and solid content. The evaporated water from the production process is collected, treated and reused for industrial purposes, instead of using water from main municipal supplies. This process helped the Company halve its water usage at the factory in 2010.
Related Information
Video: Environmental sustainability at Nestlé
Related organisations
Related people