Rochdale launches Food Hygiene Rating Scheme
Rochdale Metropolitan Borough Council has rolled out the FSA's Food Hygiene Rating Scheme…

Rochdale Metropolitan Borough Council has rolled out the FSA's Food Hygiene Rating Scheme. More than 150 local authorities in England, Wales and Northern Ireland are now publishing more than 100,000 ratings at food.gov.uk/ratings.
Other local authorities will be rolling out the scheme over the next few months.
The Food Hygiene Rating scheme helps you choose where to eat out or shop for food by giving you information about the hygiene standards in restaurants, pubs, cafés, takeaways, hotels and other places you eat, as well as in supermarkets and other food shops.
About the scheme
The Food Hygiene Rating Scheme is run by local authorities in partnership with the FSA.
In areas where the scheme is running, each food business is given a food hygiene rating on a scale from 0 to 5 when it is inspected by a local authority food safety officer. The top rating is '5' – this means the hygiene standards are very good. The bottom is '0' – this means urgent improvement is required.
When you eat out or shop for food, look out for a sticker like the one below, showing you the food hygiene rating for that business. You might find it displayed in the window, on the door, or as a certificate.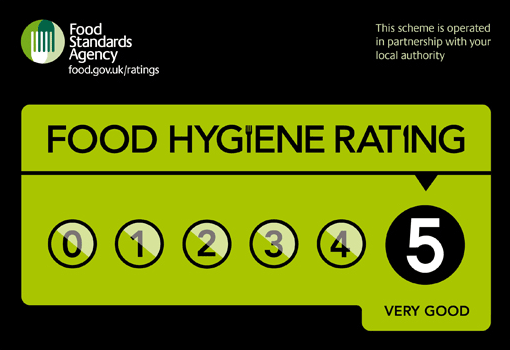 Does your favourite restaurant, takeaway or food shop have good hygiene standards? You can find out at food.gov.uk/ratings
The Food Hygiene Rating Scheme is new. This means not all food businesses with have a hygiene rating yet, but more business are being rated all the time.
A different scheme, with similar aims, is being rolled out by local authorities in Scotland.