Åke Hantoft new Chairman of Arla Foods
Åke Hantoft from Sweden will succeed Ove Møberg from Denmark as chairman of Arla Foods following Ove Møberg's decision to step down after four years…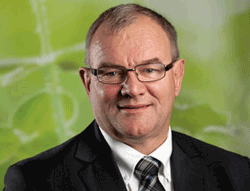 Åke Hantoft, Chairman, Arla Foods
Åke Hantoft from Sweden will succeed Ove Møberg from Denmark as chairman of Arla Foods following Ove Møberg's decision to step down after four years.
"The role as chairman in Arla is one of the most important positions you can aspire to as a dairy farmer. Arla is both a global and a local dairy company with a strong market position. Our company has a strong strategy for future growth, which will ensure that we as cooperative owners can receive a healthy milk price. I am proud to be entrusted with this position and I very much look forward to fulfilling my duties as chairman," says Åke Hantoft.
Åke Hantoft has been Vice-Chairman of Arla Foods since 2003. In 1998, he joined the board of Arla ekonomisk förening, which merged with the Danish MD Foods in 2000 to become Arla Foods.
Jan Toft Nørgaard from Denmark, who has been a member of Arla Foods' Board of Directors since 2000, has been named the new Vice Chairman in Arla Foods.
Bjørn Jepsen (Denmark) and Bjarne Hass Nielsen (employee elected member from Denmark) have also joined the Board of Directors.
Arla's Board of Directors elects their Chairman and Vice Chairman and elections are held every second year in connection with Arla Foods' Board of Representatives meeting.
Related organisations
Related people