Reliable, accurate measurements of fat, moisture and protein with InfraLab, NDC's Rapid Benchtop Meat Analyzer
Posted: 28 February 2011 | NDC Infrared Engineering Ltd | 1 comment
The InfraLab, delivers reliable, accurate measurements of fat, moisture & protein content…
The InfraLab, delivers reliable, accurate measurements of fat, moisture & protein content...
Available in single or multi-component formats , NDC's Rapid Benchtop Meat Analyzer, the InfraLab, delivers reliable, accurate measurements of fat, moisture and protein content in beef, pork, lamb or poultry.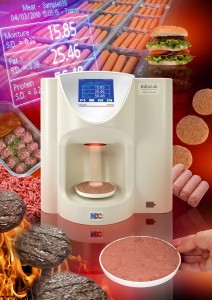 With its small footprint and hygienic design, InfraLab can be used to check incoming samples, check batch fat content prior to release, or spot-check finished products.
Protected by unique passcode for each user, and presenting only the functions for which each user has been given permission to access, InfraLab features an intuitive touchscreen which displays results instantly after completion of the 5-10 second sample measurement period.
InfraLab automatically logs every interaction with user name, time and date stamp, measurement parameters and product selection, and this data can be transmitted instantaneously via Ethernet, while its onboard memory can store up to 10,000 sample files. Twin USB ports enable data download to memory stick and the use of a Barcode Reader for easy user log-in and product selection.
Thanks to its robust construction and ability to operate in temperatures down to 0 Degrees Centigrade, InfraLab is suited both to the production area or the quality control laboratory.
The customer has complete control of InfraLab's measurements via the supplied InfraLabXL Manager PC software which enables data management, display and calibration to any preferred method, such as Soxhlet or Weibull-Stoldt for fat, Karl Fischer for Moisture and Kjeldahl for Protein.
For more information, visit www.ndcinfrared.com/meat