IFR and Jiangnan University launch a UK-China Joint Centre for Probiotic Research
Posted: 28 June 2016 | Victoria White, Digital Content Producer | No comments yet
The centre will allow the researchers to work together to tackle challenges facing both China and the UK in the probiotic research arena…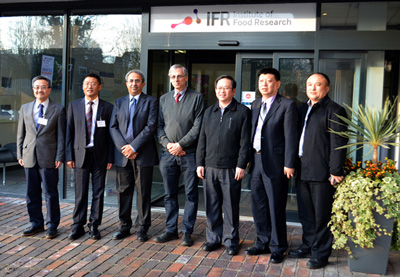 The Institute of Food Research (IFR) and Jiangnan University have announced their collaboration to initiate a UK-China Joint Centre for Probiotic Research.
The joint centre will be based both in IFR and in the planned National Engineering Research Centre for functional foods in Jiangnan University. It will allow the researchers to work together to tackle challenges facing both China and the UK in the probiotic arena, and joint research projects are planned with funding from both Chinese and UK sources.
After several years of reciprocal visits between Professor Chen Wei of Jiangnan University and Professor Arjan Narbad of the IFR, to exchange knowledge and training in probiotics research, the Newton Fund has now provided £250,000 to support a Joint Centre of Probiotic Research with equivalent funding by Jiangnan University.
Commenting on the funding and what it will mean for probiotics research, Professor Narbad, said: "We are very pleased that the Newton Fund has been able to support the joint centre, as it will allow us to strengthen ongoing collaboration and advance our interest in both fundamental and applied research focussing on the gut bacteria."
Collaborative approach already bearing fruit
A meeting held at IFR marked the inauguration of the joint centre, which was attended by Professor Wei and his colleagues Professor Chen Yong-Quan, Professor Zhang Hao and Professor Mao Jian. They were joined by Zhang Si, Director of the South China Sea Institute of Oceanology, and Professor Richard Mithen, Head of IFR's Food and Health Research Programme. 
Speaking of the new Joint Centre for Probiotic Research, Professor Wei said: "The joint research via Newton Fund will accelerate our multidisciplinary efforts on probiotics but will also allow development of further collaborations in Food Research that is strategically relevant to both IFR and Jiangnan University."
The collaborative working is already bearing fruit with several joint papers already published. Other collaborative projects are looking at developing probiotics to help counter the issue of antimicrobial resistance, a serious issue for China, the UK and in fact the whole world. 
Related topics
Related organisations