FrieslandCampina gets €150m loan to unlock the potential of milk
Posted: 27 June 2016 | Victoria White, Digital Content Producer | No comments yet
The European Investment Bank (EIB) has signed a EUR 150 million loan with FrieslandCampina for its R&D activities in Europe…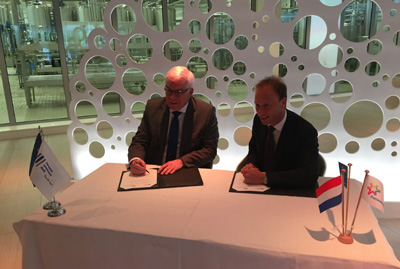 The European Investment Bank (EIB) has signed a €150 million loan with FrieslandCampina for its R&D activities in Europe.
FrieslandCampina's roots go back to 1871, when nine farmers took over a cheese factory in the Dutch Wieringerwaard. Through mergers it has become one of the world's largest companies of its kind, active in over 100 countries. The company is owned by a cooperative with the same name. FrieslandCampina says the operation with the EIB will sustain the company's innovation allowing it to reinforce its leading position in a competitive market.
Commenting on the loan, EIB Vice-President Pim van Ballekom, said: "The EIB is proud to support such a longstanding Dutch company. Milk and its derivatives are central to most people's diets and the importance of the research and development surrounding the products they consume should not be underestimated. Although we have already supported agriculture through SME credit facilities in the past, we see this operation as a clear example of what the EIB can do for the sector."
Unlocking the nutritional potential of milk
FrieslandCampina has said it will use the funding for research and development activities in facilities around Europe, with the majority to be carried out in its innovation centre in Wageningen in the Netherlands. The activities will focus on the areas of nutrition, food structuring, packaging, process technology, as well as sensory and dietary demand aspects for dairy products.
Hein Schumacher, CFO of Royal FrieslandCampina NV, commented: "The EIB loan gives us the opportunity to finance our European research, development and innovation activities at favourable conditions. These activities are mainly carried out in our innovation centre in Wageningen where more than 300 R&D employees in various disciplines from all over the world are working together to unlock the nutritional potential of milk."