Anheuser-Busch and Starbucks to launch Teavana RTD tea in the US
Posted: 3 June 2016 | Victoria White, Digital Content Producer | No comments yet
Anheuser-Busch and Starbucks are working together to produce, bottle, distribute and market the first Teavana Ready-to-Drink (RTD) tea in the US…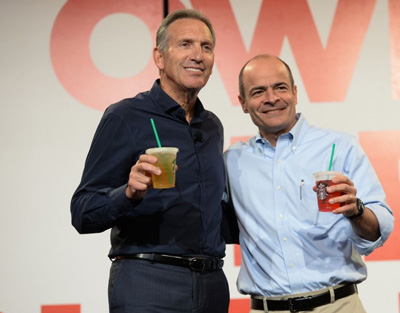 Anheuser-Busch and Starbucks are working together to produce, bottle, distribute and market the first Teavana Ready-to-Drink (RTD) tea in the US.
Teavana RTD tea has  an anticipated launch in the first half of 2017. 
Premium RTD tea is the fastest-growing segment in the RTD tea category, which generates $1.1 billion in sales. Starbucks and Anheuser-Busch plan to capitalise on the significant growth opportunity within the sector.
Starbucks will contribute Teavana's tea expertise and Anheuser-Busch will lead production, bottling and distribution to retailers across the US in partnership with its long-standing and well-established network of wholesalers.
The new RTD product line will integrate the handcrafted nature and epicurean flavours drawn from Starbucks and Teavana's retail favourites to offer consumers premium layered flavours. Starbucks retail stores nationwide serve premium, handcrafted Teavana brewed and iced teas, which is a high growth category for the company. Within the past year, US Starbucks locations have sold more than $1 billion of handcrafted Teavana tea beverages, representing 11 percent growth in year-over-year sales.
Claiming a market share in the $1 billion RTD tea category
Commenting on the announcement, Howard Schultz, chairman and chief executive officer, Starbucks, said: "Tea has been an important part of Starbucks heritage since we opened our doors as Starbucks Coffee, Tea and Spices in the Pike Place Market in 1971. When we acquired Teavana in 2012, we saw a unique opportunity to do for tea what Starbucks has done for coffee and expand the Teavana brand across many customer experiences and products. We are excited to work with Anheuser-Busch to unlock the premium ready-to-drink market and further grow demand for the Teavana brand."
Carlos Brito, chief executive officer, Anheuser-Busch InBev, added: "Starbucks' expertise and leadership in premium tea, combined with our world-class production capabilities and strong US distribution footprint, will position this new product well in what is an exciting and growing category. We are delighted to be in a position to offer this great product to our wholesalers and believe, with their support, we are ideally structured to maximise the sales opportunity for Teavana RTD tea across the U.S."
According to the Tea Association of the US, 80 percent of tea consumed in America is iced tea and tea overall has a global category size of $125 billion, with Americans drinking 800 million cups of tea per week.  This relationship positions Starbucks and Anheuser-Busch to claim market share in the more than $1 billion premium RTD tea category.