New 20 Litre Bucket blends multi-purpose functionality with hygienic design and Vikan durability
When you scale up a bucket to hold 20 litres of solid or liquid ingredients, the bucket becomes more than just a bucket…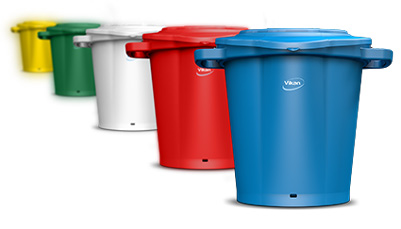 When you scale up a bucket to hold 20 litres of solid or liquid ingredients, the bucket becomes more than just a bucket. That's why Vikan is especially pleased to announce the new 20 Litre Bucket, a combined mixing station, stackable storage solution, transport system and cleaning vessel that also features state-of-the-art hygienic design and renowned Vikan quality and durability.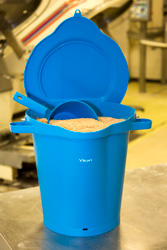 The 20 Litre Bucket has been painstakingly designed for multi-functionality. Its optimised size, tapered shape, spill-proof lip and clever bottom handle make the bucket ideal for ergonomic ingredient mixing and pouring. The specially designed lid and bottom comprise a secure stacking system, enabling customers to double the volume of stored goods per square metre. A dual handle system allows for carrying by either one person or two, protecting workers when transporting heavier loads. And the bucket is the perfect size and shape for cleaning and disinfecting utensils and cleaning tools.
Hygienic design principles such as smooth surfaces, no acute internal angles and strategically placed drainage holes have eliminated surfaces where contamination and liquids could accumulate, helping customers minimise the risk of cross-contamination. The use of premium-quality materials ensures compliance with EU and FDA food contact requirements and the dependable performance and durability that customers expect from Vikan. Joining Vikan's 6 and 12 Litre offerings in a complete family of hygienic design buckets, the 20 Litre Bucket is available in 5 colours.
Deb Smith, Global Hygiene Specialist for Vikan, says:
"Our product designers have applied EHEDG hygienic design principles throughout the construction of the 20 Litre Bucket. No matter how you use it – for mixing, storage, transport, or cleaning and disinfection – you can be certain that this bucket will help you maximise food safety and quality."