UK wine industry pledges to increase exports to over £30m by 2020
UK wine producers are pledging a tenfold increase in exports by 2020, announced Environment Secretary Elizabeth Truss…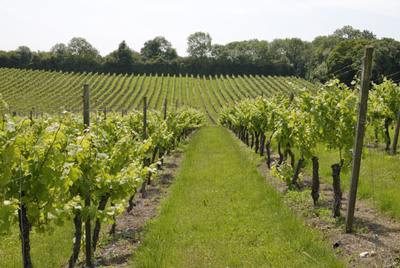 Britain's wine producers are pledging a tenfold increase in exports by 2020, helping to increase their value to over £30 million, announced Environment Secretary Elizabeth Truss.
The new targets come after the Environment Secretary called the first ever wine roundtable bringing together producers and leading UK wine industry representatives to celebrate the worldwide success of UK wine and agree to boost future production and open up new export opportunities.
As well as the tenfold increase in exports, increasing from 250,000 to 2.5 million bottles by 2020, the new targets include:
An ambition to grow the area of planted vineyards from 2000 hectares to 3000 hectares by 2020
An increase in production from 5 million bottles per year to up to 10 million bottles by 2020
Access to new data on soil types, water resources, and infrastructure networks to identify where the best areas of land are for production.
The new targets will be backed by the government's Great British Food Unit, launched this year, to turbo charge exports, boost inward investment and support emerging British companies to export overseas. The government also pledged to help producers identify an additional 75,000 acres across the country suitable for sparkling wine production.
An 'exciting time' for the UK wine industry
Commenting on the announcement, Environment Secretary, Elizabeth Truss said: "There has never been a more exciting time for the English wine industry. Production has doubled in the last five years, with sales reaching a record breaking £100 million in 2015. By using cutting-edge technology our hard-working grape growers are now producing some of the best wine in the world.
"Our goal is to harness the ambition of our English wine producers by flying the flag for British produce internationally and exploiting the huge potential for increasing exports. I have no doubt we can take on the Australians, French and Italians at their own game, exporting more of our top quality fizz across the globe and ensuring that the UK's wine industry continues to be a world-leader.
"The English and Welsh wine industry is going from strength to strength, with the area of land under vine doubling over the last ten years and sales reaching a record breaking £100 million in 2015.
"This builds on the UK's position as leading vintner in the world as our wine merchants bring innovative new brands and unique flavours to market. In the EU, total wine exports reached £168 million in 2015, with growing markets in Portugal, Spain and the Czech Republic."
Miles Beale, Chief Executive of the Wine and Spirit Trade Association, added: "English wine is earning itself a world class reputation for quality. And with government support there is a sparkling future ahead. English wine's potential and ambitions for rapid growth are clear in the aims, agreed today, to double production and to see exports increasing ten-fold by 2020."