Young's Seafood's Gastro goes from strength to strength
Posted: 29 February 2016 | Victoria White | 1 comment
Young's Seafood's Gastro sub-brand is now worth over £44 million, having grown by over 50% in the past year…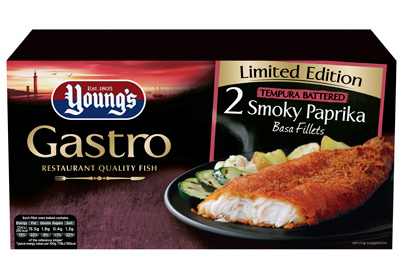 Young's Seafood's Gastro sub-brand is now worth over £44 million, having grown by over 50% in the past year, with over 45% of sales being incremental to frozen fish.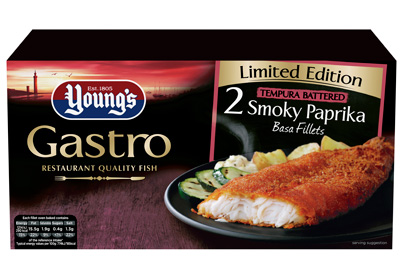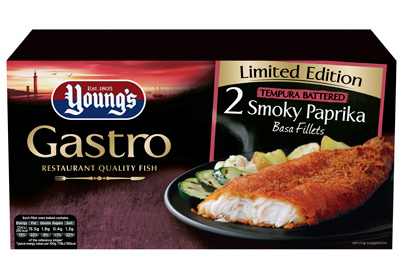 The company says its restaurant inspired dishes have attracted £20 million incremental value to frozen fish, breathing new life into categories that have seen some shoppers leave, such as battered fish.
Commenting on the news, Pete Ward, Chief Executive of Young's Seafood Limited, said: "We're pleased with the phenomenal growth of Gastro, which is now worth over £44 million, and its success in drawing in more new shoppers to try frozen fish."
Now Young's is launching a new innovation to attract even more shoppers to frozen fish, with two new Limited Edition Gastro Coated fish options- Paprika Tempura Battered Basa Fillets and Lightly Dusted Sea Salt & Balsamic Vinegar Cod Fillets.
Yvonne Adam, Marketing Director at Young's Seafood Limited, said: "Everything we do is about making the best fish simple and delicious, supporting our mission of encouraging people to eat more fish. Gastro has been a huge success, attracting more shoppers to try frozen fish and we're now looking to encourage even more people to try seafood with our new innovation. We have more exciting innovation set to launch this Spring, so keep an eye out in store."
Young's Seafood Limited has also been developed Young's Crispy prawns to branch out into the sharing and entertaining market.