Lindt & Sprüngli outperforms the chocolate market
Despite describing 2015 as a year or major uncertainties, Lindt & Sprüngli continues to significantly outperform the chocolate markets as a whole…
Despite describing 2015 as a year or major uncertainties, Lindt & Sprüngli continues to significantly outperform the chocolate markets as a whole.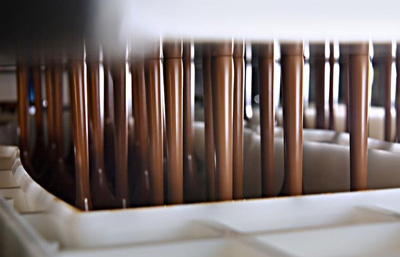 A strong Swiss franc, high raw material prices for chocolate manufacturers, weaker currencies in oil-exporting countries, extensive restructuring at major customers, the unsettling effects of terrorist threats and concerns about deflation and unemployment all had an adverse effect on consumer sentiment, and was compounded by a hot summer and the late onset of winter. Despite this extremely challenging market environment, Lindt & Sprüngli achieved significantly higher sales growth than the chocolate market as a whole and was able to expand its market shares in all strategically important markets.
Group sales amounted to CHF 3.65 billion, equivalent to 13.5% growth in local currencies.
Organic growth in the Europe segment amounted to 5.4% in local currencies, with every country making a solid contribution to this positive development. Lindt & Sprüngli UK achieved double-digit growth; great performances were also reported by Germany and France, the Group's biggest European subsidiaries.
The NAFTA region, which now also includes the newly acquired US chocolate manufacturer Russell Stover/Whitman's, achieved organic growth of 7.9%. The Group says that integration of Russell is progressing. 
The Rest of the World segment reported organic growth of 11.4%. The Group says that its subsidiaries in Australia, Japan, Russia and Brazil made particularly good progress, recording double-digit growth.
Lindt & Sprüngli's retail outlets account for over 10% of Group Sales
The Global Retail Division is making an increasingly important contribution to the Group's sales and growth. Another 52 own retail stores were added to the global network in 2015. In Brazil alone, 16 Lindt boutiques opened in prime locations during the year. The sales generated by Lindt & Sprüngli's network of retail outlets now account for more than 10% of overall Group sales.
Lindt & Sprüngli expects operating profit margin for 2015 to be at least at the preceding year's level.