'We hae meat' lands £600k deal with The Co-operative
The deal rounds off a hugely successful year for the firm, run by husband and wife team Alex and Carlyn Paton…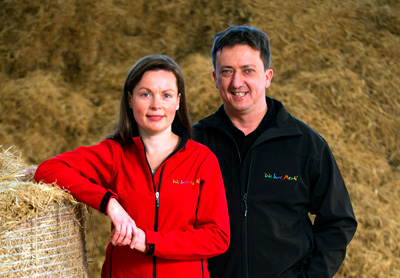 'We hae meat', an Ayrshire-based family butcher business, are celebrating success following a £600,000 supply deal with 50 The Co-operative food stores across Scotland.
The deal rounds off a hugely successful year for the firm, run by husband and wife team Alex and Carlyn Paton. In April 2015, the company's range of 'revolutionary' Single Portion Pies secured a £250,000 deal with Asda Scotland, followed by a £60,000 supply contract for their newly launched frozen range. 
The new deal with Co-op will see the Girvan-based firm create 6 new jobs at their Cairnhill Farm production plant, adding to an existing workforce of 50 staff.
Inspired by a desire to bring butcher shop quality to the convenience of the supermarket, the 'We hae meat' range, created exclusively for Co-op, includes Beef Olives, Peppered Steak, Haggis Olives, Spiced Beef and Diced Beef; all made using premium, Quality Assured meat from the family farm.
'We hae meat' to create a new factory facility next year
Speaking about the deal, fourth generation farmer and company director, Alex Paton, said:
"The deal with Co-op is a great end to what has been a very successful and exciting year for 'We hae meat'.
"We are delighted to be working with over 50 Co-op stores and that this partnership has allowed us to create jobs for local Ayrshire people.
"As we begin to look to 2016, we hope to work closely with the Co-op and have the chance to roll out our premium meat products to even more stores across Scotland."
Next year, 'We hae meat' plan to embark on their biggest expansion yet, with the creation of a new factory facility. The company is also on track to build on their 300% growth and increase turnover by 25% with aspirations to roll product out south of the border.