Food and Drink Wales pavilion at FHC China
Ten Welsh companies will be displaying their goods at the Food and Drink Wales pavilion at Food and Hotel China, Shanghai, this week…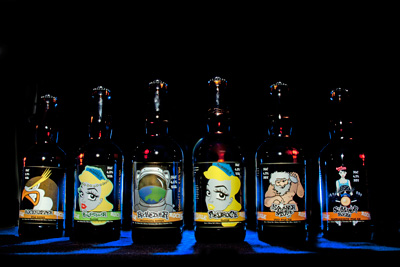 Ten Welsh food and drink producers are preparing to attend the Food and Hotel China (FHC) Exhibition to promote their produce in Shanghai.
The three day visit, from 11th to 13th November, is intended to consolidate existing partnerships with Asian companies and explore new business opportunities for Welsh producers within the lucrative Chinese and Asian markets.
The Food and Drink Wales pavilion at Shanghai is supported by the Welsh Government. A range of Welsh producers will be showcasing their products from a family run micro brewery, a leading provider of premium quality organic milk and dairy products, thai inspired sauces and pastes to traditional farmhouse bakery recipes to the largest independent dairy company.
Deputy Minister for Farming and Food Rebecca Evans believes that having a Welsh presence at the event is an opportunity to further develop Wales' increasing export market,"The Chinese and Asian markets are very important export destinations for Welsh producers, so the opportunity for some of our producers to be present and to be able to target this region is vital. Wales is undoubtedly ahead of the game when it comes to the excellent quality of our food and drink. As a result it is crucial that the Welsh Government supports our food and drink companies, enabling them to exhibit at Food and Hotel China 2015 giving them a valuable opportunity to maximise the growing trading possibilities offered in the market."
Held at the Shanghai New International Expo Centre (SNIEC), FHC China is the premier business exhibition for the global food and hospitality sector in China. It is the exhibition of choice for exporters and importers of food and drink. Visitors attending are decision makers and buyers from China's retailers, importers and distributors as well as from the hospitality sector.
Food and Drink Wales pavilion is introducing some products to the Chinese market for the first time
Four out of the ten companies attending Shanghai this year are introducing their products for the first time to the Chinese market. One of the companies, Bluestone Brewing Company, is a family run micro brewery based in Newport, Pembrokeshire. They will be sampling their range of hand crafted real ales and natural spring water which is accompanied by a modern funky branding with names including Bedrock Blonde, Rocketeer, Crystal Ruby, Rockhopper and Hammer.
Commenting on the forthcoming trip, Amy Turner of Bluestone Brewing Company said, "We are very excited about going to China and having a presence at FHC China, it will give us a fantastic opportunity to introduce our products to the Chinese and Asian market and to have direct contact with buyers, distributors and suppliers. Our presence would not be possible without the invaluable support of Food and Drink Wales and hopefully we'll return to Wales with a book full of contacts and potential buyers."
Another Welsh company looking to gain considerable Chinese success is Gower Brewery, an independent brewery based in Llanrhidian, near Swansea set up in 2011 manufacturing high quality real ales in cask, bottles and mini kegs. They started exporting to China in 2014 and have seen significant growth as Chris Mabbett says, "We now have in excess of 300 outlets including pubs, restaurants, shops and supermarkets. We have recently invested heavily to increase our bottling capacity and seek to increase awareness of our products in the Chinese market."