Mars and UN sign new food safety agreement
As part of the agreement, Mars will work together with the FAO to make food safer across the globe, but especially in developing countries…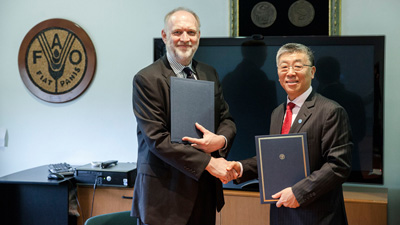 Mars has signed a new partnership with the Food and Agriculture Ogranisation of the United Nations (FAO) on food safety.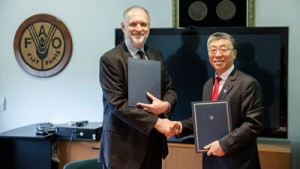 Speaking at the signing of the agreement, Dave Crean, Mars Incorporated Vice President of Corporate Research & Development, said, "If it's not safe, it's not food. We want to make sure that all food, around the world, is safe and sustainable."
Mr Crean's comments came as food industry and public policy leaders gathered in Rome at the UN FAO's Committee on Food Security (CFS42) to discuss the global crisis of food safety. Speaking at a Mars-convened side-event on industry collaboration, Mr Crean expanded on the nature of the crisis and why collaboration is key: "Unsafe food kills thousands of people every day and damages the economies of developing nations in serious, lasting ways. Our agreement with FAO is a very important step towards doing something about this crisis. And only through open, collaborative, multi-discipline approaches like this will we be able to address the problem in a meaningful way."
Mars to promote international standards for food safety and quality
As part of the agreement, Mars will work together with the FAO to make food safer across the globe, but especially in developing countries. Mars has said that it aims to do this by promoting international standards for food safety and quality, improving food safety management to reduce illness caused by unsafe food, and improving global access to information. Mars plans to share its expertise and data, helping the FAO to identify food safety issues early, as well as to develop tools that will help support food safety programs in developing countries.
The side-event at CFS42 focused on improving industry and government coming together to tackle food safety. Experts from the Ghanaian Ministry of Food & Agriculture, the World Food Programme, PACA, the FAO, and the Global Alliance for Improved Nutrition joined Mars to discuss ways we can collaborate to eliminate the threat of alfatoxins in the food chain.
The partnership with the FAO is the latest in a number of recent Mars projects which focus on the significant public health challenge of food safety. Other projects include the opening of a pioneering $15 million food safety facility in China and a partnership with the UN World Food Programme that will provide more safe, locally-sourced food to those in need in Africa.