Big Bear adds a retro pop to its iconic Fox's range
Big Bear Confectionery has gone back to the 1970s to add some retro sparkle to its iconic Fox's Glacier range with the launch of Fox's Pop Bottle favourites…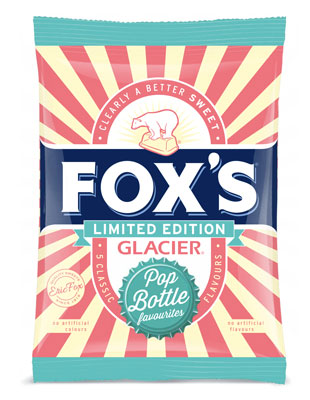 Big Bear Confectionery has gone back to the 1970s to add some retro sparkle to its iconic Fox's Glacier range.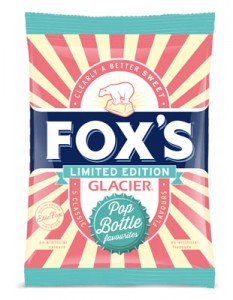 The new 130g & 200g sharing bags feature Dandelion & Burdock, Cream Soda, Cloudy Lemonade, Ginger Beer and Limeade flavours. 
"Many people will have fond memories of the "Pop Man" delivering bottles of their favourite fizzy drinks on their doorstep and retro is resonating with a whole new generation of consumers," said Ross Stanley, head of trade marketing at Big Bear.
Big Bear will be supporting the Fox's Pop Bottle launch with a £500,000 brand marketing programme
Ross Stanley continued, "We might want to forget the perms and the platforms, but the sounds and tastes of the 70s are very much in demand. Fox's Pop Bottle favourites will be available for a limited time only, but we'll be supporting the launch extensively, through digital and social channels, on-pack promotions, competitions and advertising, as part of our current £500,000 brand marketing programme.
"We are looking to enhance this launch with some heavyweight promotional activity across all channels which will give consumers a chance to try this product at a great value for money price. We have lots of interest in this pack already so the message has to be, stock up early!"
Big Bear brands are widely stocked across supermarkets, discounters and independent retailers in the UK. In addition to Fox's Glacier, Paynes Poppets, XXX Mints and Just Brazils, the confectionery manufacturer is also an award winning leading supplier of own-label sweets across products such as boils, gums and jellies, toffees and fudge.