Barenaked Foods celebrate Waitrose deal
Low carb, gluten-free pasta specialists Barenaked Foods have signed a deal with Waitrose to sell their range of noodles and rice…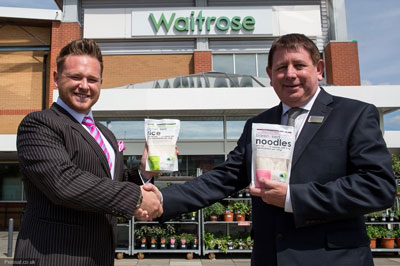 Low carb, gluten-free pasta specialists Barenaked Foods have signed a deal with Waitrose, the food retail division of the John Lewis Partnership, to sell their range of noodles and rice.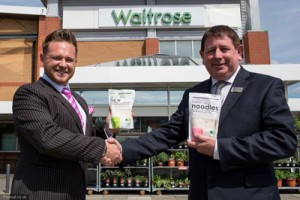 Barenaked Noodles shot to popularity in 2013 following a dramatic pitch on the BBC show "Dragons' Den" from Barenaked Foods' Managing Director that secured a £60,000 investment from entrepreneur Peter Jones as business partner.
Barenaked Noodles and Rice are made using the Asian-grown Konjac plant; a miracle plant low in carbohydrates, sugar and calories. Containing only 8 calories per 100g, they can be used as a replacement in meals for carbohydrates such as pasta, spaghetti and standard rice.
Now landing his second major supermarket deal, Managing Director Ross Mendham first developed the product in 2011 whilst looking for an answer to his own weight loss and dietary needs.
Free from products like Barenaked Foods are growing in popularity
Ross said, "We're delighted that Waitrose are stocking our original low carb, gluten free noodles and rice. We've experienced enormous interest in our range of Barenaked Foods and we're proud to be able to supply them to a wide range of consumers. Our products really are for everyone – including those with restricted diets, health issues, fitness and training demands or people simply looking for a well-balanced meal plan."
Waitrose buyer Chloe Graves said, "We love working with innovative, smaller suppliers like Barenaked who are endlessly passionate about what they do. Free from products are growing in popularity at Waitrose at a fast pace, so we're excited for our customers to try these new additions.'
Barenaked Noodles and Rice will be on sale in selected Waitrose stores from Monday 31st August 2015. 
Related topics
Related organisations