McVitie's launch first ever range of biscuit-inspired ice cream
British biscuit maker McVitie's has launched a limited edition range of ice creams inspired by the nation's most iconic collection of biscuits…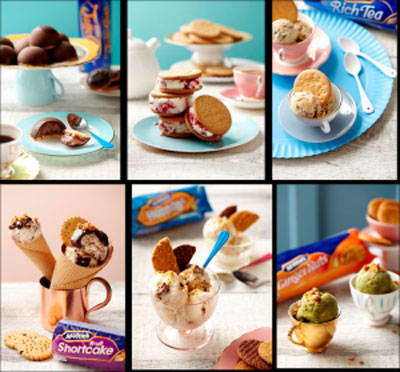 British biscuit maker McVitie's has launched a limited edition range of ice creams inspired by the nation's most iconic collection of biscuits.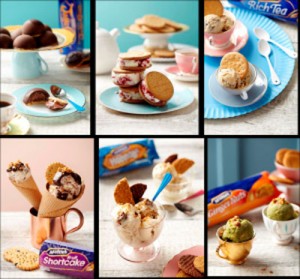 In time for summer, the ice creams will be served to the public for free, from McVitie's new Sweeet™ ice cream van. Tempting flavours will include Earl Grey Rich Tea, Salted Caramel & Chocolate Hobnob and for Jaffa fans out there, the first of its kind, the Jaffa Ice Cream Cake.
In a survey of 1,000 adults, conducted by Opinium for McVitie's, nearly a third listed 'eating ice cream' as the thing they most associate with the British summertime. In response to this, McVitie's has combined the nation's love for its biccies with the creamy frozen treat to deliver an assortment of previously undiscovered ice cream flavours.
The ice cream is available exclusively from the McVitie's Sweeet van
Available exclusively from the McVitie's Sweeet™ van, which will be touring London's iconic landmarks today, biscuit and ice cream fans are encouraged to simply tweet their whereabouts @McVities using #sweeet for a visit.
Kerry Owens, United Biscuits' Acting Marketing Director for Sweet Biscuits, says of the launch, "We're always looking for more versatile ways to bring our Sweeet range of biscuits to people in new and exciting ways, and while we can't guarantee you a sizzling hot summer, we can promise you'll love our range of delicious, biscuit-infused ice creams."
The McVitie's limited edition ice cream range includes a twist on classics flavours:
Jaffa Ice Cream Cake 
­ Raspberry Ripple Digestive Sandwich 
­ Earl Grey Rich Tea
­ Rum & Fruit Shortcake 
­ Salted Caramel & Chocolate Hobnob 
­ Green Tea & Ginger Nut Sorbet