Gluten free Barenaked Rice arrives in Morrisons
Leading UK supermarket chain Morrisons is now selling Barenaked Foods' revolutionary low-carb, gluten free, sugar free Barenaked Rice…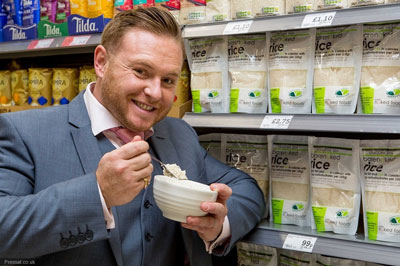 Leading UK supermarket chain Morrisons is now selling Barenaked Foods' revolutionary Barenaked Rice.
Due to popular demand, the Company launched a new rice product to add to its range of low carbohydrate, gluten free foods which are suitable for weight management, coeliacs and vegetarians. Containing only 16 calories per 100g, Barenaked Rice follows in the footsteps of the original Barenaked Noodles and Barenaked Protein Noodles and are made using the Asian-grown Konjac plant; a miracle plant low in carbohydrates, sugar and calories.
Barenaked Foods' Managing Director, Ross Mendham, is pleased to be expanding the availability of the Company's products since they were first developed in 2011 and were featured on the BBC show "Dragons' Den" in 2013.
Barenaked Rice is a low carb, gluten free alternative to standard rice
Ross said, "We are delighted that Morrisons will now be stocking our low carb, gluten free rice, which we developed in response to feedback from our customers. The rice makes a superb alternative to standard rice for those who are looking to limit their carbohydrate intake, avoid gluten or simply want to feel less bloated after a meal."
Andrew Thomas, International Foods Buyer at Morrisons, also expects Barenaked Rice to be a hit with customers.
Andrew said, "We are excited to be launching an extension to the popular Barenaked Noodles. We have had great customer feedback and it has quickly established a loyal following. This is such a unique proposition and offers a real alternative to traditional rice."