Anchor Cheddar campaign to 'save the cheese sandwich' a success
Anchor Cheddar has been on a mission for the last four months to remind the British public of the great taste of cheddar cheese sandwiches…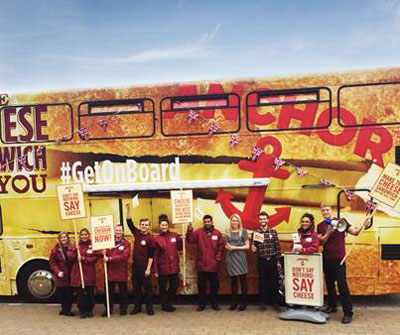 Anchor® Cheddar has been on a mission for the last four months to remind the British public of the great taste of cheddar cheese sandwiches.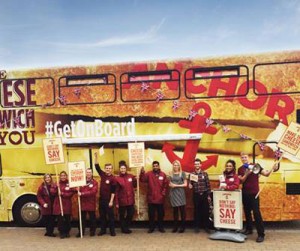 The Anchor team were spurred into action, reminding the nation of the great taste of a classic cheese sandwich following the results of a survey which took place in February. The Company discovered that over 55% of those questioned had not had a cheese sandwich the week of the survey, showing the once popular lunchtime staple was in decline.
Anchor Cheddar team have distributed 565,000 cheese sandwiches
The Anchor Cheddar campaign team distributed a whopping 565,000 cheese sandwiches to members of the public across Britain covering everywhere from Exeter to Edinburgh and 100 other places in between, encouraging them to try the classic cheese sandwich for themselves and join the campaign to bring it back to our lunchboxes.
A branded bus toured the country, handing out vouchers and freshly made sandwiches to the public while using megaphones and placards to raise awareness.
Tens of thousands of people volunteered to help save the cheese sandwich by signing an online pledge, to bring back cheese sandwiches to their lunchboxes.
Louise Thornton from Anchor Cheddar commented, "This has been a massive campaign, taking in most cities in the UK, we've reminded the great British public how a simple cheese sandwich can be one of life's simple pleasures. It's been a huge success."