New high sensitivity compact NIR spectrometer: AvaSpec-NIR-HSC
Avantes, leading innovator in the field of spectroscopy, introduced a new NIR spectrometer with more sensitivity, less weight and less size…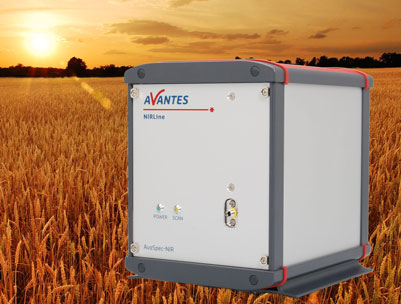 The –HSC offers improved sensitivity, less weight and less size. A range of gratings are available offer­ing the possibility to tailor the instru­ment for optimal performance in your application. This instrument is perfect for instance for grain, corn, wheat, soya and other analysis.
The Avaspec-NIR 256-HSC  is equipped with a replaceable slit which offers you great flexibility in your experiment. A range of gratings are available to tailor the instrument for optimal performance in your application Also available on the –HSC is the user selectable gain setting mode: LN (low- noise, standard setting), which gives you a longer integration time and higher signal to noise ratio, or HS (high-sensitivity) for measuring in low-light conditions.
Avantes offers a wide range of NIR spectrometers. The 2.x-series extended InGaAs instruments feature 256 or 512 pixel detectors and are available in configurations enabling measure­ments up to 2000, 2200 and 2500 nm.
Avantes is the world leader in the field of spectroscopy. They develop and manufacture spectrometers, light sources, software, fiber optic cables, and accessories. Avantes' products are highly customizable, adaptable to any specific application, and integrated into even the smallest housings. These products therefore find usage in many OEM applications and markets, as well as in the scientific and industrial world. With 20 years of experience, Avantes continues to produce innovative applications in diverse fields including chemical, solar energy, agriculture, gemology, (bio)medical, semiconductor, light measurement and food processing technology.
Related topics
Related organisations