FMA Process Engineering to increase the capacity of Franciscan Well Brewery
Expertise from FMA Process Engineering and a £2 million investment by Molson Coors to increase capacity of Ireland's award-winning Franciscan Well Brewery…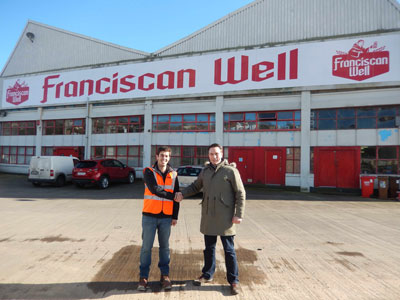 A £2 million investment by Molson Coors will increase capacity of Ireland's award-winning Franciscan Well Brewery. Commencing in May 2015, Lichfield-based FMA Process Engineering will begin the process of converting a former warehouse at Cork docks into a state-of-the-art craft brewery for Franciscan Well's lagers, ales, stouts and wheat beer. The project will increase production from 7HL daily to 50HL brews – at up to 6 brews per day – six days per week.
Through products such as Friar Weisse, Blarney Blonde, Rebel Red and Shandon Stout, demand for Franciscan Well's beers has grown considerably over recent years. However, with the Cork brewpub effectively landlocked and already operating at capacity, any meaningful increase in production meant finding a suitable new location in Cork for the brewing of these iconic beers.
Franciscan Well's North Mall brewery will continue to produce both niche beers and classic favourites.
Franciscan Well Brewery recognised for expertise in craft brewing
"We are incredibly pleased to be involved in this important and exciting project with Molson Coors and Franciscan Well," comments FMA Project Manager, Sean Bennett. "Franciscan Well has earned considerable acclaim for its beverages which are made using only the finest natural ingredients. It was, therefore, especially rewarding to be chosen for our expertise in increasing the brewing capacity of craft brewers, all while remaining faithful to the skills, recipes and processes that make each craft beer unique."
FMA Process Engineering's scope of works includes the detailed design and installation of all mechanical, electrical, instrumentation and automation aspects of the new microbrewery; the sourcing, delivery and installation of all process equipment; start-up, commissioning and staff training. FMA's design is centred upon a three-vessel brewhouse system, a beer cellar with 10-off, 100HL unitanks and an automated keg washer/filler plant for the filling of circa 90 30-litre kegs per hour.
Due to the challenges of installing a new brewhouse and its associated works within an established building, FMA has called on the 'Unconventional Wisdom' that it is renowned for to create a solution that will make the very best use of the warehouse's existing footprint. 3-D modelling will also be used extensively to give the brewer the clearest possible indication of the planned location of key pieces of brewery plant and how manual handling will be reduced to an absolute minimum.
Work is scheduled for completion in August 2015, from when brewing will take place at the existing brewpub site at North Mall, Cork and at the new dockside location.
The new Franciscan Well brewery, at a glance:
Automated dry goods intake
Three-vessel brewhouse system (6 x 50HL brews/day)
Whirlpool and wort cooling system
10 x 100HL unitank farm
Mobile yeast handling system
Sterile filtration system
Carbonation and nitrogenation
Automated keg plant
Water treatment system
Steam boiler system
Effluent treatment system
For more information about FMA Process Engineering, please visit www.fma.uk.com