DS-gluten free extends dinner time offering with gluten free chicken kievs
Dr Schär, a leading gluten free manufacturer, is delighted to announce the launch of their latest product innovation – gluten free Chicken Kievs…

Dr Schär, a leading gluten free manufacturer, is delighted to announce the launch of their latest product innovation – gluten free Chicken Kievs. Available under the DS-gluten free brand, the two portion packs can be found in the frozen aisle of 250 Morrisons stores nationwide.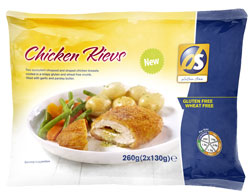 The new Chicken Kievs join the varied DS-gluten free range which caters for those following a gluten and wheat free diet. The kievs are made from succulent chicken breast meat filled with a rich garlic and parsley butter sauce and coated in golden, gluten free breadcrumbs. Frozen for consumer convenience, the crispy chicken kievs provide a simple and filling weekday supper when accompanied with a fresh salad and baby new potatoes. Available from 1 April 2015 (RRP £3.49) these will be the first branded gluten free chicken kievs to launch in the UK.
"We are delighted to be the first brand to put this family favourite back on the tables of those following a gluten and wheat free diet," comments Bradley Grimshaw, Commercial Director of Dr Schär UK. "The frozen gluten free category is now worth over £17m and growing at 41% year on year,1 so it's clear consumers are increasingly looking to the frozen aisle when planning their free from meals. This presents a significant opportunity for retailers and we're excited to provide an increasingly varied offering for both stores and shoppers."
The launch will be supported by a targeted marketing and PR campaign to raise consumer awareness of the new Chicken Kievs through both social and traditional media.
In addition, Morrisons will be listing even more DS-gluten free lines to serve their growing consumer base who follow a free from diet. From April, the popular Frozen White Rolls (RRP £2.49) and Bontà d'Italia Salami Pizza (RRP £3.19) will be listed in 250 stores across the country. The versatile, everyday rolls are easy to defrost individually so there's no wastage, making them excellent value compared to fresh alternatives. The Bontà d'Italia Salami Pizza joins the popular Margherita already available to Morrisons. The DS-gluten free Apple Crumble (RRP £2.99), Mini Os (RRP £1.40), Chocolate Fingers (RRP £1.99), Breadsticks (RRP £2.59) and Pretzels (RRP £1.00) will also be listed in more stores in the coming weeks. "We know availability is one of the biggest issues for consumers so we are pleased that the extended distribution provides our loyal shoppers with greater access to our products," adds Bradley.
"The success of the Bontà d'Italia Margherita pizza in Morrisons has demonstrated the demand for frozen gluten free products and we're confident the rest of the DS-gluten free range will delight shoppers," concludes Bradley. "Consumers are looking for authentic tasting gluten free products and retailers can feel confident that the DS-gluten free products deliver on this front."
The above products from the DS-gluten free range are also available in:
Bontà d'Italia Salami Pizza: Tesco, Booths, Waitrose and Ocado
Frozen White Rolls and Mini Os: Sainsbury's
Apple Crumble: Asda and Morrisons
Chocolate Fingers: Sainsbury's and Waitrose
Breadsticks: Asda, Sainsbury's and Waitrose
Pretzels: Waitrose, Asda, Sainsbury's and Goodness Direct
IRI data 52 w/e 14 February 2015